Best Cheap Acoustic Guitars Under $200 That You Will Fall In Love With!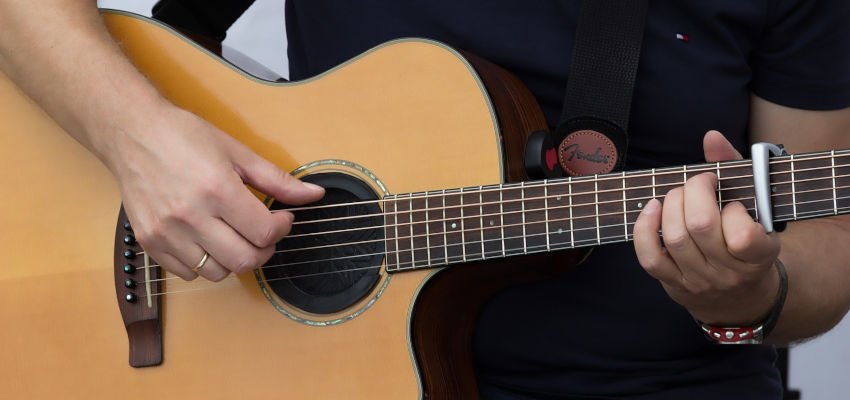 You decided to buy an acoustic guitar, but you are low on budget. With that many available models and brands out there you are not sure which one will be the best choice for its price.
If that's your case, then you are in the right place.
In this article, our experts reviewed some of the best acoustic guitars under $200 to help you save your time and avoid buying the one that you are going to hate later.
So without further ado, let's look at our list of the best affordable acoustic guitars that don't suck.
Top 7 Inexpensive Acoustic Guitars (Under 200 Dollars)
Image
Model
Wood
Price
Fender FA-100

Back/sides: Basswood
Top: Laminated Spruce
Neck: Maple

Check Price
Yamaha FG800

Back/sides: Nato/Okume
Top: Solid Spruce
Neck: Nato

Check Price
Full Review
Ibanez IJV50

Check Price
Best Choice Products

Check Price
Donner DAG-1

Back/sides: African Mahogany
Top: African Spruce
Neck: African Mahogany

Check Price
Jasmine S-35 Pack

Check Price
Epiphone DR-100

Check Price
Full Review
Fender FA-100
Full kit for learning
Full-dreadnought body
High quality
Fender acoustic guitars have a long history of appealing tone, quality materials, and fine playability. For a budget guitar, Fender FA-100 is definitely a great choice. The biggest advantage is that you get a complete set up for learning:
Fender acoustic guitar
Gig bag
Strap
Digital clip-on tuner
Extra set of strings
Picks
Instructional DVD
Polishing cloth
You have everything you need to start playing right away.
Fender FA-100 has a full-size dreadnought body that is great for a vibrant tone. Realistically, for a couple hundred dollars you are not going to get a true Fender sound, but this guitar definitely provides decent quality sound for the money you pay. In case Fender FA-100 doesn't seem to fit your needs or budget, we recommend you to check out Seagull S6, which is a very nice alternative
Pros
Complete set up
Full-dreadnought body
No fret buzzing
Cons
Tough action
Doesn't stay in tune for too long
Yamaha FG-800
Nice sound quality
Great value for the money
Robust structure
Despite its low price, Yamaha FB800 offers fine construction, excellent design, and superb value. It features a solid Sitka spruce top and nato back/sides. The fingerboard and bridge are made of rosewood, providing a soft, mellow sound. Here is a great article about how different types of wood affect guitar sound:
Additionally, this model comes with an adjustable truss rod, which is very important for an acoustic guitar. It is used to adjust the height between the strings and the fretboard (it's called action) if it doesn't feel comfortable to press the strings.
Realistically, you can't expect the same quality from a $200 and a $1000 guitar. Cheap guitars tent to go out of tune more often. Especially this happens a lot if you love bending. (If your budget is a bit more flexible – we recommend to check out our editor's list of acoustic guitar models under 300 dollar price range that may offer higher quality and reliability)
A great way to fix this problem without spending a lot of money is to stretch the strings. Anytime you put on a new set of strings – you need to stretch them.
Here is how you do it:
grab a string with your thumb and index finger
pull it up (away from the fretboard)
release
repeat the same process on fret 5, 12 and 17 for EVERY string
Doing so will make your guitar stay in tune for much longer. Seem to like it? Read our Yamaha FG800 full review here to learn more.
Pros
Nice sound quality
Great value for the money
Robust structure
Cons
Strings need to be stretched
High action
Ibanez IJV50
Sturdy build
Great sound for such a low price
Easy to play
Ibanez IJV50 is another great budget guitar both for beginners and intermediate players. It features spruce top and comes with a gig bag and a package of accessories. Most customers are happy with the great look and awesome sound.
While there are cases when the guitar was delivered with a crack or defect, that happens very rarely and is rather an exception than a rule.
Pros
Sturdy build
Great sound for such a low price
Easy to play
Cons
Strings may need to be replaced
Best Choice Products Bundle Kit
Attractive finish
Comes with a starter kit
Full-bodied sound
This acoustic guitar bundle is the cheapest option on our list and at the same time one of the best selling guitars on Amazon. The ultimate guitar starter kit includes:
picks
strap
pitch pipe
digital tuner
extra set of 6 strings
Additionally, you receive a nylon carrying case that's perfect for storage and portability. This is the best you can get for such a low price. Unfortunately, the guitar doesn't stay in tune for too long, which is expected considering its price.
Pros
Attractive finish
Comes with a starter kit
Full-bodied sound
Cons
Doesn't stay in tune for too long
Can be delivered with cracks
Donner DAG-1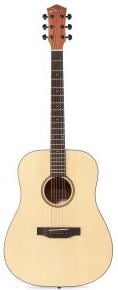 Comes with a starter package
Full-size dreadnought body
High-quality sound
Donner DAG-1 is a great affordable guitar. It has nice sound and tone and is easy to play.
Moreover, it provides great value for the money you pay, as it comes with a gig bag, guitar strap, extra strings, a digital clip-on tuner, polishing cloth and guitar picks as a gift.
Unlike the previous guitar on our list, Donner DAG-1 comes with high-quality strings and a robust construction. It is excellent for beginners and there haven't been any complaints about buzzing frets, high action or low-quality materials.
However, we did notice that this guitar tends to go out of tune more often than it should.
Pros
Comes with a starter package
Full-size dreadnought body
High-quality sound
Jasmine S35 Acoustic Guitar Pack
Good value for the money
Light and good-looking
Balanced and rich tone
This dreadnought guitar has a nice tone and comes with a beautiful wood grain. It is great for any level of guitar players. This model offers a spruce top with Jasmine guitar's signature Advanced "X" Bracing. The back and sides are made of this, making it light but definitely sturdy.
A slim neck and a full-sized body provide an excellent shape that's comfortable to hold and play. To top it all of, Jasmine S35 acoustic guitar also features a rosewood fingerboard and bridge, full body binding and chrome tuners that make it look sleek while maintaining great sound.
Pros
Good value for the money
Light and good-looking
Balanced and rich tone
Cons
May go out of tune frequently
Epiphone DR-100
Mahogany body
Great projection and volume
Affordable and durable
This is one of the best sounding guitars for such a low price. It is great both for beginners and advanced players. You will be surprised by the sound of this model. It provides great projection and volume when you do a full strum, while consistently keeping clear articulation at any volume.
Whereas other budget guitars sound beginner and "boxy", Epiphone DR-100 is miles above that level in terms of sound quality and voice.
Additionally, the Epiphone brand provides a lifetime guarantee.
Regardless of whether you are a beginner just starting out or an experienced player – for such a low price this is the best guitar you can get.
Epiphone DR-100 is the best budget acoustic guitar on our list. Read our Epiphone DR-100 full review.
Pros
Mahogany body
Great projection and volume
Affordable and durable
Cons
Neck dries out easily in warm climates
The action might need adjustment
Buyer's Guide
Are cheap guitar good for beginners?
There is a dilemma here.
On one hand, when you are just starting out with playing guitar, you want to make sure you buy a decent quality guitar that you will enjoy playing. This way you can have fun, which in turn will encourage you to continue practicing and improving.
On the other hand, as a beginner you don't want to buy a very expensive guitar. You are not really sure yet if you are going to like it so you definitely don't need to spend $1000+ on your first guitar.
The answer is very simple – you need to find that sweet spot between price and quality.
As an experienced guitar player, I recommend spending around $200 on your first acoustic guitar. This price range strikes a good balance between affordable price and a decent quality instrument. My first acoustic guitar costed $70. It wasn't very good because of high action and some other minor issues, yet it was good enough for practicing and having fun.
However, if you are not short on cash, there is certainly nothing wrong with paying $300-500 for an acoustic guitar.
Key takeaway:
While there is nothing wrong spending $300-500 on an acoustic guitar, even for $200 you can still find a guitar that will be comfortable to play and have good sound.
The key is to know what to look for.
Why are some guitars cheaper than others?
There are two main areas that determine the price of a guitar: components and manufacturing. In order to be able to lower the price for a guitar, the company must cut costs in either one of these areas (or both).
Expensive models
The most expensive guitars are made of high quality woods, electronics and hardware. They are handcrafted by high-skill professionals (luthiers) and this is why they cost so much.
Mid-price models
While the previous approach is still somewhat common, the biggest companies in guitar production industry have moved to computer controlled mass production of guitars. Utilizing modern technologies like CAD (Computer Aided Design), geometrical modelling (warning: only for guitar nerds), 2D/3D modelling, they are able to maintain high quality of the instruments as well as increase productivity and efficiency. Streamlined production of guitars is much more profitable than handcrafted production.
Important notice: The only big difference between a $500 and a $5000 guitar is the way they were assembled: the expensive instrument was handcrafted while the cheaper one was assembled in a computer controlled assembly-line. The quality of both instruments is equally high.
Low price models
When it comes to the lower end of guitar prices, for obvious reasons the components will be of lower quality. This may mislead you into thinking that low price is equal to low quality. While often times it tends to be true, that's not always the case with guitars. The key moment to understand is that if "low price" guitars really had poor quality then nobody would ever buy them. This required companies to provide not only affordable price but also decent quality.
There are some well-known companies that managed to find that sweet spot between affordable price and decent quality. They are:
Epiphone
Squirer by Fender
Yamaha
This essentially explains how you can get a decent guitar with great quality and sound for a very reasonable price. To sum up, what guitar can you get for $100-300?
assembly-line manufactured
lower quality components
lower labor cost
decent quality and sound
you don't have to break the bank
great for beginners
Read more: Does it matter where guitars are made?
Why is action very important?
An action is a distance between the fretboard and the strings.
If the action is too low – the strings will be too close to the fretboard and playing will cause buzzing frets.
On the other hand, if the action is too high you will need to press the strings much harder to make the notes sound. While you might still be able to play separate notes, it's going to be very hard to get each string to sound when playing chords. Either of these two issues is bad and will definitely ruin all the fun of playing the guitar.
To avoid this painful experience, make sure you carefully read customer reviews when shopping on Amazon. Perform a search for the word "action" and see what people write in the reviews or questions about a specific model. You can post your own question. Usually, Amazon sellers respond quickly because they are interested in selling more guitars.
What action is better?
There is no right or wrong way to set up action on your guitar. It depends on many factors like your personal preference, experience, the style of music you play etc.
If you shred, then I would assume you prefer a lower action since you have to work fast with your fretting hand and fingers, as well as quickly move around different scale positions around the neck. If you prefer playing slower acoustic or classical guitar riffs, finger style, or you just play riffs mainly on the left side of the fretboard (approx. open – 9 frets) then you might not need your action to be very low.
Most players just know what they like more. I prefer lower action because I love shredding and with low action it takes less effort to play 8th or 16th notes. You may have different personal preferences.
Do they stay in tune?
Most budget guitars tent to go out of tune more often.
It may happen because of the lower quality of the strings provided with the guitar. Additionally, bending strings make them go out of tune faster. Lastly, every time you put on new strings you need to stretch them. Most likely in the case with a budget guitar, nobody has done that.
However, keep in mind that even expensive guitars do go out of tune. The question is how often you will have to tune it.
You don't believe me?
This is Slash ft. Myles Kennedy & Conspirators performing Crazy Train just a month or two ago. When Slash starts playing the solo you can clearly hear that his guitar is completely out of tune (most likely, it was D string out of tune).
Do you think Slash uses cheap guitars for his performances?
His guitars are probably crazy expensive and are custom made. And guess what – even they need to be regularly tuned and inspected before each show.