A lot of times beginner guitar players get frustrated because they don't see immediate results. Some even stop playing the guitar when they can't play anything to their friends or family.
But did you know that there are hundreds if not thousands of songs with just a few easy chords?
Even if you are a complete beginner, as long as you know the basic chords, you can easily impress your friends with a cool song.
In fact, a lot of great songs are easy to play. They are just a combination of 3, 4 or 5 chords.
In this article, we researched a list of simple to learn acoustic guitar songs that are easy enough even for a beginner. To play these songs you need:
know what a key is
know how to find notes on a guitar
If you are not sure what a key is or how to find notes on a guitar neck, I highly recommend reading this guide.
How It Works
All you need to do is use I, IV, V and vi chords of the major scale in any key. The bigger number represents the major chord, and the smaller one – the minor chord.
So, in the key of E your chords would be:
I – E major
IV – A major
V – B major
vi – C# minor.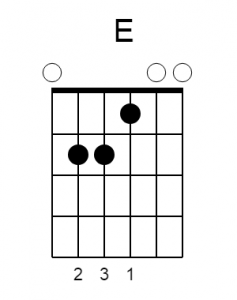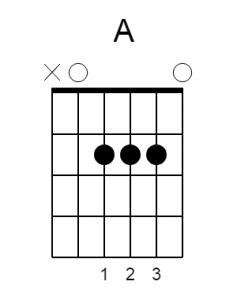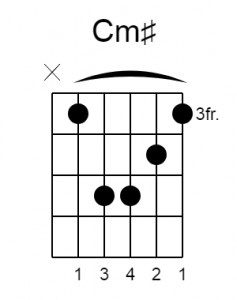 Now you just have to grab these 4 simple chords and play them in the right order.
How easy is that?
Tip: use a backing track to play along the song. This insanely improves your sense of rhythm and timing (and also makes things more fun).
Simply search on Youtube [song name] + [backing track].


"One of Us" by Joan Osborne seems to be in the key of A major, so here are the chord in the right order for this song (for standard tuning):
vi chord – Fm# (F sharp minor) 
IV chord – D (major)
I chord – A (major)
V chord – E (major)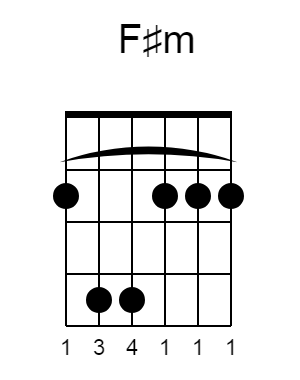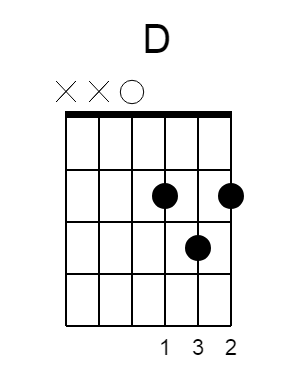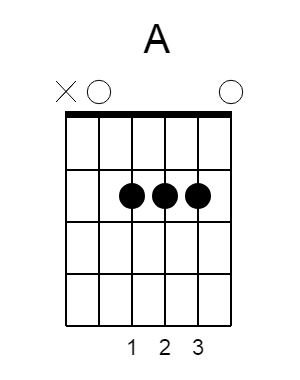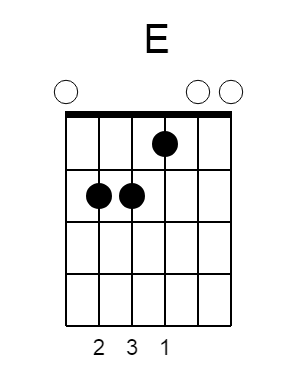 List of Easy Guitar Songs with Just 4 Chords
"Let It Be" The Beatles I-V-vi-IV
"No Woman, No Cry" Bob Marley I-V-vi-IV
"Can You Feel the Love Tonight" Elton John I-V-vi-IV
"Self Esteem" The Offspring vi-IV-I-V
"One of Us" Joan Osborne vi-IV-I-V
"Torn" Natalie Imbruglia I-V-vi-IV
"What's My Age Again?" Blink-182 I-V-vi-IV
"It's My Life" Bon Jovi vi-IV-I-V
"Otherside" Red Hot Chili Peppers vi-IV-I-V
"Crawling" Linkin Park vi-IV-I-V
"Complicated" Avril Lavigne vi-IV-I-V
"Where Is the Love?" The Black Eyed Peas I-V-vi-IV
"Numb" Linkin Park vi-IV-I-V
"Pieces" Sum 41 vi-IV-I-V
"Snow (Hey Oh)" Red Hot Chili Peppers I-V-vi-IV; vi-IV-I-V
"Umbrella" Rihanna IV-I-V-vi
"Hot n Cold" Katy Perry vi-IV-I-V
"Poker Face" Lady Gaga vi-IV-I-V
"You're Gonna Go Far, Kid" The Offspring vi-IV-I-V
"Love Me" Justin Bieber vi-IV-I-V
"Just a Dream" Nelly vi-IV-I-V
"Price Tag" Jessie J I-V-vi-IV
Recommended for reading:
Yamaha FG800 – awesome acoustic guitar for beginners
What's your favorite song on this list?
What song would you add here?
Let me know in the comments.