Seagull S6 Original Acoustic Guitar Review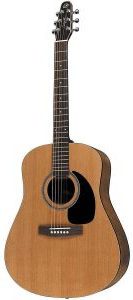 Body: wild cherry
Top: cedar
Neck: silver-leaf maple
Fretboard: rosewood
Made in Canada from local materials
Tempered bright tone with well-defined mid-range
Available in acoustic-electric and left-handed versions
Every guitarist wants to sound great, from the first day beginner practicing timidly in the bedroom, to the seasoned professional playing the encore on their final night. The Seagull S6 Original is a guitar that any player would be happy to hold. Like all Seagull guitars, the S6 original is crafted in Canada from sustainably-sourced Canadian materials, and is a product of award winning luthier Robert Godin. Its broad and bright tone and ringing clarity will make even a novice picking out the notes of a basic chord sound like a true musician. It's no wonder that the S6 is Seagull's number one seller.
Pros
Affordable
High-quality materials
Sustainably-sourced
Loud, clear sound
Tuners designed to stay tuned
Cons
Heavy mid-range tone not great for singing
Large body and slightly extra-wide neck
Appearance
When shopping for a new guitar, often the first thing that will have you trying out an instrument is how it looks, and the S6 Original sports the kind of eye-catching appeal that has it coming down from the rack all day long. The tapered head and slim neck running down to the dreadnought body make the S6 a sleek looking instrument with a really attractive silhouette. The light tan of the cedar top body contrasts nicely with the dark tortoise shell pick guard, wild cherry sides, and rosewood neck and bridge. Accented with a herring-bone pattern around the sound hole, the S6 Original is a beautiful guitar from every angle.
Body
Taking a closer look at the S6, it quickly becomes apparent that the attention to true craftsmanship Seagull imbues to its guitars goes beyond superficial appearances. The S6 Original is made with the musician in mind; every aspect of its construction is smart and purposeful.
All the wood used in the neck and body of the S6 is sourced locally and responsibly from trees that are abundant in the Canadian wilderness. The back and sides of the S6 Original are made of wild cherry laminate. You may have heard that using laminated woods creates an inferior product and is used by manufacturers to cut costs, and in many cases that is true, as the outer wood is often laminated over cheap synthetic material. This is not the case for the S6 Original, because Seagull's wild cherry laminate is actually cherry wood laminated over a middle layer of more cherry wood, essentially creating a guitar with sides and back of solid cherry! That makes this guitar sound really clean and hold up against the accidental bumps and bangs that might punch a hole in a guitar made of cheap filler materials.
The top of the S6 Original, pressure-tested for durability, is made of solid cedar, a dependable tonewood traditionally used in classical guitars, adding to the appeal the S6 holds for fingerstyle players. The body is the standard dreadnought shape and size, nearly five inches deep, giving a loud voice to a guitar with a lot of mid-range tonality. A dense rosewood bridge sets the strings with black bridge pins in a compensated saddle, and an attractive tortoise shell pick guard protects the finish so you can play heavy-handed without the worry of damaging your instrument. Adding to the guitar's durability is the body's lustrous semi-gloss finish, protecting the wood from scratches and warping due to weather conditions.
Neck
Moving up, the neck and fretboard continue to exemplify the quality and intelligent thought put into the design of the S6 Original. The neck is made of dense silver-leaf maple, a strong wood known for its loud and bright tone. Maple's density means that this guitar will stand up to rough treatment and is not prone to becoming warped from weather, and will also hold its shape and tone in alternate tunings. Its smooth semi-gloss finish makes for easy transitions up and down the fretboard. A 1.8 inch nut gives a spacious playing area perfect for beginners, but is not so wide as to be uncomfortable, making this a great guitar for advanced fingerstyle technique.
The only non-local wood used in the S6, the fretboard is made of rosewood, but you can't blame Seagull for choosing to go with the naturally-oiled material that makes for such a great playing surface. Rosewood is very hard and is not susceptible to staining like many other woods, making it perfect for fretboards. It is also naturally oily and smooth to the touch, making the S6 a guitar that not only sounds good, but feels good too. Topped off with basic fret inlays, the S6 fretboard is a classic of inarguable quality.
Head
Besides just looking really cool, the narrow tapering head of the S6 Original features one of the most important aspects of Seagull's smart design. The die cast chrome tuners are aligned with the strings to accommodate straight string pull past the nut. This means that the guitar holds its tuning even through the tensest of string bends and heavy-handed strumming. There's nothing more frustrating or unprofessional when playing guitar than having to stop to tune halfway through every other song, and as a guitarist who plays loud and hard, this head stock and tuner design is something I really appreciate about the S6 Original.
Playability
So, we've already established you're going to want to take the S6 Original down for a closer look, and once you get it in your hands, you're going to see that it is not only pretty, it is made with care from quality materials. Now it's time to play it. The dreadnought body shape may be awkward for a very beginner, most certainly for small kids, but if you stick with it long enough, you will find the familiar shape to be well worth it in its robust sound. Strap buttons on the top and bottom bouts offer a convenient way to attach a strap, useful for dreadnought style guitars.The finish on the maple neck and the natural oils of the rosewood fretboard make this a guitar that is very smooth and easy to play, whether strumming down the chords of an Andalusian cadence or flatpicking the bluegrass riffs of Blackberry Blossom. And, thanks to the well-designed tuners, you can play away while staying in tune.
Sound
Before you play the S6, you might think a low price guitar that looks great, feels great, and plays great, must have some flaw, probably sounds flat, otherwise why would it be affordable? Well, the S6 Original manages to be pretty much a perfect affordable guitar, and it's all thanks to the wood. Buying your wood local means you can buy it cheap, and as it happens, Seagull owns some of the forests from where the wood comes. That, and their commitment to musicians, are the keys to the affordable quality of the S6 Original.
A lot of thought has gone into every aspect of this guitar, and it is all highlighted in its great sound. Normally, a guitar built with a cherry body and maple neck would be very bright, because both those woods produce bright sounds with a lot of high timbre. In the S6, this is tempered by the cedar top. Cedar as a tonewood produces a dark tone with rich overtones, which serves to balance the sparkling crispness of the maple and cherry. Add to it that they're bound together by a rosewood bridge, known for offering a balanced response across all frequencies, and you get a guitar whose individual quality aspects blend in alchemical resonance to create an instrument of true quality. Boasting a loud, well-balanced tone with a lot of clarity and crispness in each note makes the S6 a versatile guitar, great for all styles of acoustic guitar playing and for players of all experience levels.
Disadvantages
I am honestly hard-pressed to find anything negative to say about the S6. Some guitarists might find the extra wide nut to be problematic or the body to be too large, but for a beginner, these are usually non-issues. Singer-songwriters may want to seek a guitar with more bottom end and less midrange than the S6, and I prefer a cut-away style body because I like a lot of lower fret access, but in every other way the S6 is a guitar I would happily use as my main instrument. For some, it may still be outside the price range for a true beginner's guitar, but you pay for what you get, and when you pay for the S6 Original, you get a quality instrument designed with your musical enjoyment in mind.
Versions
The Seagull S6 Original comes in three versions: S6 Original, S6 Original Left, and the acoustic-electric S6 Original QIT. I have known left handed guitarists, but none whom had a left hand guitar, and so Seagull shows their commitment to the musician again by offering the S6 Original Left for only a scant higher price than the right handed version. The S6 Original QIT has all the same features that make the Original so great, and comes equipped with the custom Godin QIT electronics system. This pickup and the onboard EQ are great for recording, live performances, or just for adding a little more bottom end to your sound as you practice.
Additional resources: