Epiphone dr-100 acoustic guitar review


Top: Laminate spruce
Fretboard:Rosewood
Neck:Okoume
Sides:Mahogany
Dreadnought body
Despite being a manufacturer of many quality instruments since its founding in 1873, Epiphone sometimes has a poor reputation. In this review of the Epiphone DR-100 acoustic guitar, you will receive an unbiased look at all the specs and qualities of this affordable instrument.
Brief summary
Among the many entry-level guitars, the DR-100 actually stands out with its strong tone and quality build.
It is Epiphone's best selling acoustic and will probably stay that way for as long as the price and quality stay consistent. It outcompetes some other beginner guitars in such a budget-friendly price range.
Sure, the wood may be cheap and the sound not as full as an acoustic can be, but for the cost, the DR-100 is a quality instrument.
If you're an absolute beginner, the DR-100 is the perfect guitar to learn on. It's basically the minimum price you can pay for the full acoustic experience. You can learn everything you need to know to become a guitarist. It lends itself well to experimenting with different playing styles across many genres.
Pros
Great projection and sustain
SlimTaper neck for comfortable fretting
Three finish options
Cons
Frets not properly ground
Weak low-end tones
Finish can chip off easily
If you'd like to learn more about Epiphone DR-100 acoustic guitar – then stay tuned.
We'll see who this guitar can be the best match for based on tone and playability.
Don't let what you may have heard before about this brand being low quality before you find out for yourself if it's the right beginner guitar for you.
Epiphone DR-100 in-depth review
Construction
Oddly, different sites list varying specifications for the DR-100. It's all available in fine detail on the Epiphone website, so I'm not sure why there is any confusion.
Some sites may feel the need to exaggerate the quality of the materials in order to dispel the bad stigma of the Epiphone name. But, lying about how a guitar is made isn't going to make it sound or play any better.
So, here are the facts of how the build comes together in this budget-friendly acoustic guitar.
Body
Although many reviews will tell you the DR-100 has a solid spruce top, it does not.
Solid top guitars are rare at this price point.
Epiphone states the DR-100 has a select spruce top, which means laminate spruce. It's a cost saving material, but it sounds good enough to be the primary wood used in most entry-level guitars.
Don't let the laminate top turn you away though. Spruce provides a consistent sound across all playing styles, from classical to rock. Its flexibility creates a guitar with great sound response from low to high frequencies.
While it may lack in complex overtones for more experienced players, the balanced response is perfect for enabling beginners who lack refined technique to hear what they're doing right and wrong.
Laminate mahogany is used for the back and sides, again another popular low-cost production choice. A dense and dark red wood, mahogany has been a go-to tonewood for decades. When paired with spruce, you get a time tested formula for an acoustic with prominent mid-range tones.
Beginner guitars sporting this spruce-mahogany combo are numerous because it saves on manufacturing expenses while producing a popular versatile sound; you can find it in the Martin LX1, the Fender CD-60S, the Donner DAG-1C, and many others.
Topped off with a rosewood bridge and black pickguard, the DR-100 is a classic dreadnought.
Neck
Several distributors list the neck of the DR-100 as mahogany, but the Epiphone specs are clear that it is actually okoume.
Okoume is a lightweight wood with resonant qualities similar to mahogany.
Although relatively new in its use as a tonewood, more manufacturers are turning to okoume as a low-cost alternative to mahogany. It stands up against string tension and delivers a tone with high amounts of sustain, a crucial tonal property in beginner guitars.
The fretboard is rosewood, durable and comfortable to play on.
Twenty frets down the 25.5 inch scale give enough playing room for just about everything you'd ever want to use an acoustic for.
The neck is glued to the body, which is fine if the initial build is properly aligned. In mass production, some people complain of necks set at an incorrect angle. Difficult and costly to repair, it would be best to get a replacement if you experience this issue with a new DR-100.
Head
The DR-100 guitar sports Gibson's classic pre-1930's headstock style. It's an attractive head, with nickel plated hardware and "Epiphone premium" tuning machines.
While the name sounds top of the line, the tuners aren't anything fancy or special. However, they do perform as tuning machines should and will keep your strings up to tension.
Sound
The finer qualities of this guitar's sound are its projection and sustain. All too often do beginner guitars sound as small as their price tags. And with this weak voice, they are unable to hold a note for more than a couple beats. The DR-100 has neither of those problems.
It delivers a clear tone at any volume, great for beginners who lack finesse in their strumming hands. For scales, riffs, and solo practice, every note projects a full voice slow to decay.
A beginner should find no problem with the tone of the Epiphone DR-100 acoustic guitar. It responds well to both fingerstyle and pick playing and is good for any genre. There's no unwieldy fret noise, no dead notes, and few intonation problems.
Like most acoustics, it can benefit from a setup at the guitar shop, but it comes fully playable in most instances.
For a guitar in the affordable price range, the DR-100 sounds really good. It features clear and pleasant highs and a middle range that surpasses most other guitars at this price point.
However, it does lack the low-end presence that I like the most about acoustics. Without those solid bass notes, fingerpicking will rely on a heavy thumb to produce a full sound, and chords strummed with a pick will have an overabundance of treble.
Due to the prominence of the mid-range tones and lack of lower frequencies, a beginner with singer-songwriter ambitions may find this guitar to be less suited to their purposes than, say, the aspiring bluegrass flat-picker.
Regardless, it's a much better sounding instrument than most for the same price.
If you're looking forward to years of playing guitar, the DR-100 is not the kind of acoustic that sounds better with age. The laminate body woods don't develop the same lightness and responsiveness as solid tonewoods do over time. As your ear develops, you will probably start to lose taste for the sound of this acoustic. Lacking in bass and with little harmonic complexity to make things interesting, you'll want to upgrade once you've started to develop a personal style and playing preference.
If you're looking to purchase a guitar that you'll be proud to play fifteen years from now, check out solid top acoustics like Seagull's S6 Original.
Playability
Epiphone's DR-100 is fixed with the classic SlimTaper neck profile, a speed-increasing innovation first implemented in the 1960s. With the SlimTaper design, the sides of the neck steeply taper in from the edges of the fretboard. This is an ergonomic neck that allows the player comfortable reach and grip while reducing fatigue.
Beginners will find this feature invaluable, as finger and hand pain are among the main reasons new students give up on guitar. There is little change in width from the top to the bottom of the fretboard, giving you the freedom to explore the entire neck comfortably.
The dreadnought body might seem large to new players, but it's the standard in acoustic design. Developing proper technique on a dreadnought will turn you into a versatile player able to jam with guitars of all shapes and sizes.
While the DR-100 is probably too big for very young children, kids around 8-10 years can often start to learn on a full-size guitar.
A feature lacking in many entry-level acoustics, the DR-100 has strap buttons on the top and bottom bouts that make it easy to attach a strap to support the large body.
Most people are happy to report that their DR-100s ship with pretty good action and intonation straight out the box. The few that receive troublesome guitars don't have anything too bad to say, the main problem being slightly high action that can be fixed with a proper setup.
My major complaint with most beginner guitars at this price point is that they almost always have frets that aren't ground right. This means they stick out over the edges of the fretboard and can scratch your fingers. In the worst cases, they can actually cut you– an unacceptable impediment to practice.
The DR-100 doesn't seem to be one of the worst case acoustics for sharp frets, but some do come with frets that will catch your skin.
Usually, this is in the higher frets, starting around the 10th, and can be really bothersome and distracting.
You can pay to have this fixed or fix it yourself fairly easily, though it's a good motivator to seek out a better beginner acoustic guitar if you're serious about playing.
Appearance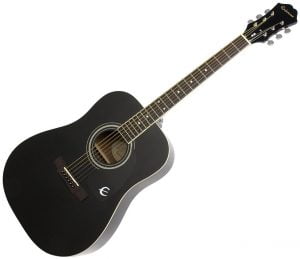 This is an attractive, vintage looking guitar. It has a symmetrical design from top to bottom and shines with its nickel-plated hardware and pearloid fret inlays.
The Epiphone DR-100 acoustic guitar comes available in three different finishes.
There's the classic Natural finish, highlighting the creamy color of the spruce top and deep red of the mahogany sides.
The Black finish covers the entire body and has a matching black headstock.
Vintage Sunburst fades from a vibrant burnt orange in the lower bout to a dark brown to black toward the edges of the top.
All three finishes have a simple black and white soundhole rosette and black pickguard.
Being a low-cost acoustic, the finish is not of the highest quality and can chip off if the guitar is bumped. Be careful and treat your instrument with due respect to maintain its sharp appearance over the years.
Our verdict
If you're extra ambitious and a bit handy, you can even develop some good guitar tech skills if you decide to take on the task of grinding the frets and setting it up. If these out-of-the-box repairs are too much for you to take on, they are generally inexpensive to have fixed by a pro and will contribute a lot to the playability of the DR-100.
Young kids might be better off with a
smaller, child-size guitar
, but I'd recommend upgrading to a full-size guitar as soon as practical. Life is full of unexpected opportunities to play other people's guitars, and you'll want to be able to jam on a dreadnought just as well as a mini.
While it's a great guitar for beginners, experienced guitarists will probably want to overlook the Epiphone DR-100. The sound is usable, but it's not really good enough for recording or playing live.
Open mics, sure, but I wouldn't want to play a show with this acoustic. It simply doesn't have enough character, and the low-end is too weak to justify the DR-100's presence on a stage.
As a travel guitar, the DR-100's main selling point is the price. A full-size dreadnought is not necessarily the most compact and portable instrument, but at the cost it probably won't hurt you too much if it is lost, stolen, or damaged. Its loud projection makes it a good guitar for playing around the campfire or busking on the street. Extra care should be taken to prevent weather-related damage as the DR-100 is not in any way designed for weather resistance.
While writing or practicing, I would quickly tire of the absence of thick lows and wish for a more complex tone.
And although I usually write off any guitar with sharp frets as unplayable, if I suddenly had zero guitars and little money, the DR-100 would be one of my first choices for a new acoustic.