Best Cheap Electric Guitars Under $200 That Sound Great!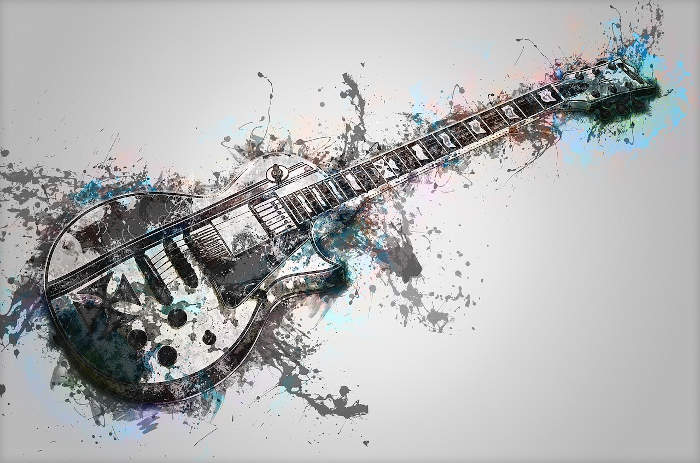 When you're in the market for an electric guitar, you might think you need to spend big bucks in order to get something worth playing. Truth is, the cost of manufacturing has decreased a lot over recent years, and brands like Epiphone and Squier offer low-cost electrics that rival the highest quality models from Gibson and Fender.
These are all full-size instruments, so they might be a bit too big for children, but we've taken a look at the best electric guitars for small hands in its own dedicated review.
There are enough high-performing budget electrics that I could recommend nearly fifty different models, all that are great to play; but I've chosen the 5 best budget electric guitars under $200 that will get you started rocking. Whether you're a beginner guitarist choosing your first instrument, a veteran musician looking for a low-cost axe to smash on stage, or an aspiring repair tech seeking a project guitar, these affordable electrics can be a great match for you.
Top Inexpensive Electric Guitars Under 200 Dollars
Image
Model
Wood
Price
Epiphone Les Paul Special II


Top: Okoume
Body: Okoume
Back: Okoume
Neck: Okoume
Fretboard: Rosewood

Check Price
Yamaha Pacifica PAC012DLX


Top: Maple
Body: Wood
Back: Agathis
Neck: Maple
Fretboard: Rosewood

Check Price
Squier Affinity Telecaster


Body: Alder
Neck: Maple
Fretboard: Maple

Check Price
Dean Vendetta XM


Top: Maple
Body: Basswood
Back: Maple
Neck: Maple
Fretboard: Rosewood

Check Price
Jackson JS Series Dinky Arch Top JS22 DKA


Top: Maple
Body: Poplar
Back: Poplar
Neck: Maple
Fretboard: Amaranth

Check Price
Specs
Top: Okoume
Body: Okoume
Back: Okoume
Neck: Okoume
Fretboard: Rosewood
Pros
Open coil humbuckers with a bossy tone
SlimTaper "D" neck profile for fast playing
Tune-o-matic bridge and stopbar tailpiece for easy string changes
Cons
Low quality tuning machines
No individual tone or volume controls for each pickup
No pickguard
Guitar Review
The Epiphone Les Paul Special II is an affordable alternative to the pricey Gibson Les Paul Traditional model. Rather than the Gibson go-to of mahogany for body and neck woods, this Epi LP model utilizes low-cost okoume, keeping the Special II both light in weight and in price. Two humbucking pickups with a 3-way selector switch give you a full-bodied, powerful tone that is rich in lows and mids and holds highs with a lot of sustain. It shreds like you'd expect a Les Paul to, and performs well in just about every genre. Country musicians might want to opt for a less grungy guitar, but if you want to play rock, blues, jazz, or metal on a budget, you can't go wrong with the Epiphone Les Paul Special II.
Specs
Body: Alder
Neck: Maple
Fretboard: Maple
Pros
Bright, crisp tone
Double cutaway for full fingerboard access
"C" shape neck profile for strong chord fretting
Cons
Weak low end tones
Wide neck difficult for small hands
Awkward appearance/aesthetic
Review
Squier is the kid brother of acclaimed guitar company Fender, and offers the Affinity Telecaster as a budget-friendly version of the historical Fender Tele models. It's a solid built electric guitar made of alder and maple, both bright and sparkly tonewoods that produce a clean and shining sound. Two vintage-style single coil pickups on a three-way selector switch provide a tone that's perfect for jazz, soft rock, and country-style genres. Unfortunately, the Squier Affinity Telecaster doesn't have much to say in the low end, as the bass frequencies really falter in this alder+maple combo. If you're looking for a metal guitar, the Affinity Tele is not going to meet the task, but it was never intended to be a heavy rocker. When you want a clean tone with lots of high end sparkle, the Squier Affinity series is ready to sing at a very low cost.
Specs
Top: Maple
Body: Basswood
Back: Maple
Neck: Maple
Fretboard: Rosewood
Pros
Balanced, even tone across all frequency ranges
Dependable tuning machines and good intonation
Low action for fast riffing
Cons
Unremarkable basic humbucker pickups
Fret buzz when played hard and open
Review
The Dean Vendetta XM is a great guitar for aspiring metal and hard rock guitarists. It's a perfect entry-level electric guitar with a tone that projects evenly from the low to high ranges while offering all the tone you need to learn squealing metal solos. Even in the high end, there's a lot of kick, whereas many guitars in this price range fall short in that area. If you're a fan of heavier music genres looking for a low-cost axe to get you started, the Vendetta XM can carry you for years until you're ready to invest in a higher quality instrument. There is a minor problem with the action being just low enough that if you're crunching through a lot of unfretted dropped-tuning chords, you might experience some fret buzz, but with the right finesse and palm muting technique, you can make this guitar rock.
Specs
Top: Maple
Body: Poplar
Back: Poplar
Neck: Maple
Fretboard: Amaranth
Pros
Angled headstock for increased tuning stability
Tremolo bar for shrieking squeals and bends
Reinforced neck joint keeps solid intonation
Cons
Thick lows and mids are too muddy for many genres
Unusual fingerboard material
Review
Jackson is a renowned brand among metal musicians, and the Dinky JS22 allows you to get a taste of why that is at about the lowest cost available in dependable electric guitars. Although players wishing to play softer, clean-sound dependent genres will find this to be a limiting guitar due to its overpowering low and middle end, the tone delivered by the Jackson High-Output humbuckers is sure to please anyone wanting an authentic heavy metal sound. It's one of the few affordable-range guitars featuring a dependable tremolo bar, so beginner guitarists can get a feel for what it's like to pull off terrific dime squeals and wailing pitch shifts. It plays super fast, although the amaranth fingerboard might be off putting if you prefer more traditional woods. All in all, it's a cheap guitar that packs the punch of models that can cost hundreds of dollars more.
Specs
Top: Maple
Body: Wood
Back: Agathis
Neck: Maple
Fretboard: Rosewood
Cons
Unusual body wood
Lacking pickup-specific tone and volume controls
Review
From engines to electric guitars, Yamaha makes everything it does pretty well. My first guitar was a Yamaha so I have a bit of a sweet spot for their instruments. The Pacifica PAC012 is a really versatile electric thanks to its combination of humbucker and single coil pickups.
You can get a range of tones out of this instrument for many different genres, from clean playing jazz in the single coils to hard hitting rock in the humbucker. The only style this guitar can't really pull off is heavy metal, as a single humbucker isn't going to get the growling palm-muted chunky opens you need to play a serious breakdown. Aside from that, you've got a thousand other styles to explore.
The only thing I would want to change about this guitar would be controls specifically for each pickup, as it comes equipped only with a 5-way selector switch and master tone and volume controls. For beginner guitarists, this isn't much of a problem, as the ear for precise tones won't be quite as developed as in players with more experience, but down the road you might find yourself wishing you could tweak your sound a bit more. Overall, there's a whole lot you can do with this guitar, including getting some truly funky sounds with the vintage style tremolo bar.
Buying a Budget Electric Guitar – Buyer's Guide
What Kind of Electric Guitar Can You Get Under $200?
Surprisingly, there are many decent guitars in the "under $200" price range. At the very least, there are beginner electrics good enough to learn the basics on. Epiphone and Squier both do a great job of replicating the more expensive models of Gibson and Fender, while brands like Dean put out some original entry-level models that can hold their own in band practice.
There aren't really any guitars in this price range that are good enough for long-term gigging or any serious show playing, but if you're in a pinch and need an emergency electric to get you through a night while your main axe is out of commission, you could squeeze by with one of these. Of course, you could luck out and find a used instrument at a steep markdown whose true value is much greater than $200 at pawn shops, thrift stores, or yardsales, but generally, you pay for what you get, and $200 will get you a decent beginner guitar.
However, this is not to say that all budget electric guitars under $200 are good, or even playable, instruments. There are for sure some major duds out there that aren't worth picking up at any price point, unless you're just looking for a piece of wall art or have an overwhelming desire to smash a guitar. Even above the $200 price point there are guitars of very low quality that I wouldn't recommend to anyone. It's important to do your research before buying an instrument so that you don't end up with a piece of junk. Fortunately, all the guitars listed above are top quality for the price range, come perfectly playable, and will stay that way for as long as you own them.
Who Should Buy a Guitar in This Price Range?
If you're totally new to playing guitar, an electric in this price range is perfect. They're affordable, functional, and maintain a decent resale value in case you decide this isn't the hobby for you.
Choosing to play electric as a beginner comes with a few more expenses than starting with an acoustic guitar, so you might want to keep your initial instrument purchase on the cheaper end. You'll have to buy an amp and at least one cable to start with, and it's always a good idea to have a couple extra sets of strings on hand, especially in the beginning days when over tuning and overbending can lead to snapped strings. Buying a guitar in this price range is your most sure way of being able to afford the extras that come along with playing an electric.
Aside from beginners, budget electric guitars under $200 can be a good buy for intermediate to advanced acoustic players who are looking to branch out into electric styles. I played acoustic for years before I bought my first electric, and it was a great move going with an affordable instrument because I found that my passion for playing guitar is focused primarily in acoustic music. I still enjoy an electric from time to time, but I'm glad I didn't overspend on a top quality axe that mostly sits collecting dust.
Guitars in this price range are also great for aspiring guitar techs or for anyone who wants to learn how to repair or upgrade their instrument, as you'll be much more willing to take risks on a budget guitar like a $200 Epiphone than on a top notch $2000 Gibson.
Are $200 Guitars Upgradeable?
Budget electric guitars are upgradeable to a point. With the right skill and knowledge, you can replace just about every part of guitar with a higher quality piece.
The most basic and obvious upgrade a lot of these guitars could use is in the pickups. None of the guitars on this list have totally bad electronics, but they could all benefit from an upgrade. This will quickly kick them above the $200 range, unless you happen to have an extra set lying around, but in some of these guitars a pickup boost can take them from basic practice instruments to stage-worthy electrics.
In addition or in lieu of a pickup change, many entry-level guitars could use a tuning machine upgrade. Like the pickups, none of the guitars listed have super low quality tuners, but there certainly are better options you could change to. Unlike pickup upgrades, changing your tuning machines can be done by just about anyone with the ability to turn a few screws, and depending on what you choose to switch to, can be a fairly affordable upgrade.
Now, those are the most basic and obvious upgrades that can be done by most people with the ambition to make their budget guitar more of a performer, but you can also upgrade the neck and the whole electronics system, including switches and controls. These are not really beginner jobs, and changing out the neck of a guitar can be very costly in both time, patience, and materials. But, if you're teaching yourself to be a luthier or guitar tech and aren't scared to take a risk with your instrument, there's ultimately nothing holding you back from custom modding your electric any way you want to.
Should I Buy a Used Guitar?
Should you buy a used guitar depends on the value of the guitar, the savings you might get, and the quality of the instrument. Before you buy a used guitar, you want to make sure it functions like it should, doesn't need any costly repairs, and is at a marked down price low enough that you wouldn't be better off buying a new instrument. It's all dependent on the quality:cost ratio, so just make sure you're actually getting a deal before you buy used.
You can find used guitars in many places, from old ladies' yardsales to seedy pawn shops to major guitar suppliers like Sam Ash and Guitar Center.
In my experience, guitars at yard and garage sales can either be a great find or a big joke. There's really a huge range of instruments you might find in this kind of setting. I've seen yardsales with ten to twenty high quality guitars being sold by a retiring musician, but all priced at about the same cost you could get a new guitar of comparable quality. Then, I've seen First Act instruments priced at two times their original retail price. The real steal in used guitars is when you find a high quality instrument sold by someone who either doesn't know what they've got, or they just don't care to get its worth and want it gone.
Pawn shops are also a grab bag of high and low quality instruments at a range of prices. You might luck out in one and find the guitar of your dreams at a steep price cut, but usually I find pawn shop prices to be just as high or even higher than the cost of buying the same guitar new.
Finally, at major guitar retailers I've seen great deals on slightly used instruments, but typically in the higher price ranges. For beginner guitars, there's not a lot of price cutting, but every once in a while, you can find a Gibson or Taylor that's been banged on a table corner one too many times and consequently marked down several hundred dollars.
The Final Word
It can be overwhelming choosing an electric guitar, but as long as you don't rush into the decision and know what you're buying before you solidify the purchase, you can get a pretty decent instrument for not a lot of money.
The best budget electric guitars under $200 are those that will meet YOUR needs, whether that's practicing, jamming with friends, or working on your upgrade and repair skills. Thankfully, there are a lot of good options to choose from, while the worst guitars are being weeded out of the market by the demands of informed buyers like yourself. Good luck and rock on!