Top Rated Acoustic Guitars For Playing Blues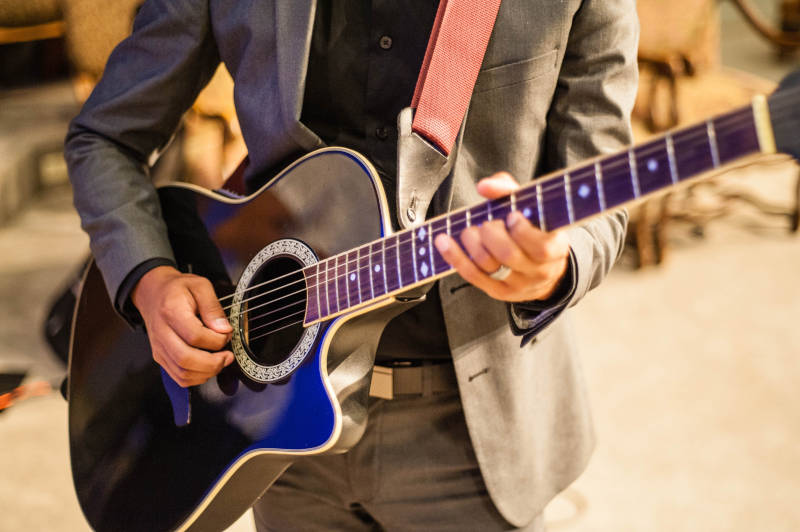 I've said that playing the blues is like having to be black twice. Stevie Ray Vaughan missed on both counts, but I never noticed. B. B. King
Although the blues is a genre famously pioneered by players down on their luck, there's no need for you to play a depressing guitar.
We have hundreds of options for the best blues acoustic guitars, and there's no right or wrong choice of guitar for playing the blues, but I've selected a solid lineup of guitars for you to pick your problems away with.
From high end Taylors and Martins for seasoned pros, to affordable entry-level Epiphones and Fenders for beginner guitarists, these acoustic guitars for blues are soulful, tone-filled, and well-built instruments ready for you to channel your troubles and woes through.
Top 5 Best Acoustic Guitars For Blues
Image
Model
Wood
Price
Taylor 114CE Grand Auditorium Acoustic Electric Guitar


Top: Ebony, Sapele
Body: Walnut
Back: Walnut
Neck: Walnut
Fretboard: Ebony

Check Price
Martin 000-15M


Top: Mahogany
Body: Mahogany
Back: Mahogany
Neck: Mahogany
Fretboard: Rosewood

Check Price
Fender CD -60S All-Mahogany Dreadnought Acoustic Guitar


Top: Mahogany
Body: Mahogany
Back: Mahogany
Neck: Mahogany
Fretboard: Walnut

Check Price
Gretsch G9200 Boxcar Resonator Acoustic Guitar


Top: Rose, Mahogany
Body: Rosewood
Back: Mahogany
Neck: Mahogany
Fretboard: Rosewood

Check Price
Epiphone Hummingbird PRO Acoustic-Electric Guitar


Top: Spruce
Body: Wood
Back: Mahogany
Neck: Mahogany
Fretboard: Rosewood

Check Price
Specs
Top: Ebony, Sapele
Body: Walnut
Back: Walnut
Neck: Walnut
Fretboard: Ebony
Pros
Acoustic electric for amplified playing
Cutaway for easy upper fret access
High quality woods that sound even better with age
Cons
Synthetic nut and saddle material
Review
If you ask anyone what the best acoustic guitars you can buy are, they'll probably mention Taylor at least once, and with good reason. True quality builds and unique bracing patterns make Taylor guitars some of the best sounding acoustics on the market.
While the 114ce might be out of the price range for beginners, the Baby Taylor is a more affordable option you can start to learn the blues with. The Taylor 114ce combines a bright sounding solid Sitka spruce top with the tempering density of walnut back and sides to produce a tone that sings strong in the midrange with just enough high-end emphasis to give you the bite you want for jangly blues riffs.
Its undersaddle piezo pickup truly replicates your guitars natural tone, so your 12 bars sound equally soulful unplugged or amplified. All of this with a smoothly curved cutaway for upper fret riffing makes the Taylor 114ce one of the best blues acoustic guitars available today.
Specs
Top: Mahogany
Body: Mahogany
Back: Mahogany
Neck: Mahogany
Fretboard: Walnut
Pros
– All-mahogany construction for warm, full midrange
– Solid top at a low price
– Available in left-hand version
Cons
– A bit glassy in upper registers
– Low quality tuning machines
Review
On the opposite side of the price spectrum from Taylors and Martins is the affordable, yet still reliable, Fender CD-60S. This is one of the lowest cost and fully playable acoustics I could recommend, and it has a few features that make it a great acoustic guitar for blues.
First, it sports a solid mahogany top at a price that makes me question why anyone bothers building laminate top guitars. Next, its mahogany top, back, and sides come together for an earthy and warm midrange that allows you to play up and down the neck with an even tone, so you don't lose the groove in deep blues chords or sound like you're playing a toy in the high range riffs.
Finally, the Fender CD-60S's vintage-sized frets and patent "Easy-to-Play" neck shape with rolled edges presents a playing field that's just as comfortable for tricky blues barre chords as for flying through full scale pentatonics. If you're a beginner on a budget, the Fender 60-CDS is all you need to get going.
Specs
Top: Mahogany
Body: Mahogany
Back: Mahogany
Neck: Mahogany
Fretboard: Rosewood
Pros
Completely solid wood construction
Pure, clear tones in all registers
In the affordable price range of Martin guitars
Cons
Review
Another high class model for those who know what they're doing and know what they want, the Martin 000-15M is the most expensive guitar on this list. Like the Fender, it's an all-mahogany build, but differs in that every piece of wood in the body is solid. That's right – no laminate back and sides.
The difference this makes is apparent from the first strum, as tone seems to pour from every inch of this guitar. It's loud but articulate; warm but not muddy; mid-range heavy but lacking nothing in the low and high ends. And, for a Martin, the price is actually quite reasonable. It's hard to beat the Martin 000-15M in just about every way you can judge a guitar, but I wouldn't recommend it to a beginner for the simple reason that only professionals need an acoustic of such high quality.
If you're set on getting a Martin but can't afford to dish out a couple grand on a new guitar, the Little Martin LX1 can get you started on your blues career. For musicians who have been playing for years and need a new blues guitar for gigging and recording, the Martin 000-15M is definitely one of your best options.
Specs
Top: Rose, Mahogany
Body: Rosewood
Back: Mahogany
Neck: Mahogany
Fretboard: Rosewood
Pros
The "bluesiest" guitar on the list
Authentic 1930s remake
Affordable resonator guitar
Cons
Not as versatile in tone as the other guitars on this list
Review
The Gretsch G9200 is my favorite guitar on this list. My preference when listening to blues is finding the super old, one-take one-track recordings to hear the authenticity of emotion in those pioneering players.
This Gretsch Boxcar Resonator acoustic gives you the ability to replicate that vintage sound at a cost that is only slightly higher than purely entry-level guitars. The body is all mahogany, giving the midrange prominence that you want to look for in a good blues acoustic, and the f-holes and resonator in the soundboard send forth a tone that makes me think of hopping on a train with nothing but the clothes on my back and guitar in hand.
Gretsch does a great job at all of their vintage and historical model replications, like in the G5420 semi-acoustic, while somehow offering them at prices I used to think could only buy low-end beginner guitars. I'm a big fan of all their instruments, and think once you hear the G9200 Resonator, you will be too.
Specs
Top: Spruce
Body: Wood
Back: Mahogany
Neck: Mahogany
Fretboard: Rosewood
Pros
Accurate remake of 1960s Gibson acoustic model
Loud, even tone in all ranges
Acoustic electric capabilities for gigging and recording
Cons
Flashy, fancy pickguard art
Pickup wires can become loose if mistreated
Review
Perhaps the best affordable dreadnought acoustic on the market, the Epiphone Hummingbird PRO replicates its the Gibson 1960s Hummingbird model in all the right ways.
It's a beautiful, vintage-looking guitar with much more than aesthetics going for it. Gibson's Hummingbird has been a favorite guitar of several famous musicians, and Epiphone's remake lets beginner players find out why. Its SlimTaper "D" neck profile is super comfortable for chording and riffing alike, and its solid spruce+mahogany tonewood combo delivers a sound that you might expect to have to pay hundreds more for.
The Hummingbird PRO can perform in pretty much every acoustic music genre, but really shines in the blues with its loud, earthy voice with just the right amount of twang in the high-end. And although the electronics aren't anything to rival Taylor's piezo system, the Hummingbird is more than good enough for small-time gigs or home recording sessions.
Additional Tips on Buying a Good Acoustic Guitar For Blues
How to Get Blues Guitar Sound?
This isn't as easy a question to answer as say, "How to get heavy metal guitar sound?", as it is mostly dependent on you as a player and not so much on the equipment you use.
Plus, the blues is a huge term that encompasses many different sounds and playing styles.
Any guitar – even home-built oil can instruments – can be used to play the blues, but it's up to you to listen to and learn the style from those that came before you, and to practice the subtleties of rhythm, syncopation, and inflections that make the blues what it is.
Is Blues Guitar Easy?
Yes, and no. The first things I ever learned to play were blues riffs and 12-bar chord patterns, but if I brought what I knew to an experienced musician, they would have told me I didn't really have the blues yet.
Even today, I have a hard time nailing some of the first blues songs ever recorded, missing minor rhythmic nuances that bring the soul of the song together. Yes, it's easy to learn 12-bar progressions.
Yes, it's easy to learn pentatonics, blues scales, and other riffs that you can use to solo over a 12-bar progression. Yes, it's easy to do a boogie-woogie bass line. But, no, it's not easy to master any art.
No, it's not easy to find the spirit of a truly historic genre in a week's time. No, it's not easy to feel the need to feel the pain that brought this genre to life in the first place. To really play blues guitar will take time, dedication, and soul searching, but in the end it is a worthy and rewarding venture.
What To Look For in a Blues Acoustic Guitar?
First, look for a guitar that is within your means to purchase. Just because this list of the best blues acoustic guitars features a Taylor and Martin doesn't mean you have to spend big bucks to get the best guitar for you. The pioneers of blues certainly didn't start the genre as rich folks, and oftentimes wrote their songs on contraptions that could hardly pass as instruments.
So, get a guitar you can afford without giving yourself even more of the blues.
After that, it largely depends on you to make your guitar a blues acoustic. You can get really good at the genre on even the lowest-end instruments, but you'll have a much easier time at it if your guitar stays in tune for longer than a few minutes and is properly intoned.
There's no one thing that makes an acoustic a blues guitar, but many players favor those that have a prominent middle range, as blues guitar incorporates a lot of deep bass lines punctuated by treble-heavy solo licks.
In general, look for an acoustic with a solid wood top, stable, dependable tuning machines, good intonation, and action that's set at a point where your heavy thumbed bass lines aren't going to cause a lot of fret buzz – basically the same things you want to look for in any good acoustic guitar.
Are Acoustic or Electric Guitars Better for Playing Blues?
Whether to get an acoustic or electric guitar for playing blues depends on what style you most want to play.
The blues was developed on acoustic and stayed that way for decades, but has since branched out into a wide range of styles and given rise to some of the most popular electric guitarists of the 20th century. If you want to master the fingerpicked style of Piedmont blues, you'll want to look for a good acoustic.
If your interests lie more in the rock'n'roll blues style of Stevie Ray Vaughn, an electric will be the right choice, and you can check out our reviews of the best electric guitars for blues.
It's a matter of preference, so make sure you know what you're wanting to play before making your final decision.
Final Thoughts
Truly, with the right motivation and ingenuity, any guitar, even an old stringed-up oil can, can be the best blues acoustic guitar for you.
The guitars on this list all have the basic qualities that make an acoustic good: solid top construction, quality builds, comfortable necks, and good intonation. They're not just blues guitars; you can play just about any style of music on any of the options reviewed.
The Gretsch Boxcar Resonator is the only guitar that you'll have a harder time playing other genres in, but there's nothing to keep you from trying. In the end, the blues comes from the emotion in your soul, and not the guitar in your hands, so whatever acoustic you choose, it's up to you to put the feeling into the music that you make.
May your woes never be too strong, and may playing music bring you peace!