After one particularly difficult and hasty move across country, I found myself for the first time in ten years without a guitar and barely any extra cash.
I wish I knew then what I knew now — that there are tons of great acoustic guitars under $100. In my ignorance, I bought a horribly used 3/4 size piece of junk off Craigslist for $60.
Although it kept me playing, I would have been much better off with one of the new guitars from this list.
If you're in a similar pinch of needing a super low cost acoustic fast, take it from me and choose from among these top 7 best acoustic guitars under $100.
Our Recommendation
The Rogue Starter is going to be my best recommendation for when you're really in a financial bind.
With $100 you can get this guitar and still have money to spare, so although it may not be the best in terms of sound or playability, it's a great bargain, earning it our #7 spot.
When your budget truly maxes out at $100, you can upgrade all the way up to a beginner's acoustic-electric such as our #1 choice in this category, the Jasmine S35. It's pretty decent all around and comes with a bundle of accessories meant to kickstart your musical adventures.
The Top 7 Best Acoustic Guitars Under $100 – Overview
Image
Model
Wood
Price
Rogue Starter


Top: Spruce
Body: Spruce
Back: Linden
Neck: Maple
Fretboard: Rosewood

Check Price
Ashthorpe Full-Size Cutaway


Top: Spruce
Back: Basswood
Fretboard: Basswood

Check Price
Rogue RA-090


Top: Spruce
Body: Wood
Back: Mahogany
Neck: Nato
Fretboard: Rosewood

Check Price
Squier SA-150


Top: Maple
Body: Basswood
Back: Maple
Neck: Mahogany
Fretboard: Mahogany

Check Price
ARTALL 41


Top: Basswood
Body: Basswood
Back: Basswood
Neck: Maple
Fretboard: Maple

Check Price
Jasmine S-35


Top: Spruce
Body: Nato
Back: Nato
Neck: Nato
Fretboard: Rosewood

Check Price
Martin Smith W-101-BK

Check Price
Specs
Top: Spruce
Body: Spruce
Back: Linden
Neck: Maple
Fretboard: Rosewood
Pros
Pinless bridge for easy string changes
Smooth-playing rosewood fingerboard
7/8 size great for kids or smaller players
Cons
Can have sharp fret edges that need filed down
Tinny sound, weak low-end
Review
There aren't many acoustics at a lower price than the Rogue Starter, and those that you find for cheaper will be of significantly lower quality.
We'll take a look at it's better points before I tell you what's wrong with it…
First, the Rogue Starter is a 7/8 size guitar, bringing it right between the 3/4 kids size and a full-scale dreadnought. This is a perfect design for smaller bodied adults or for kids around the age of 10 and up.
It's not very loud, so parent won't be driven nuts by their children's lack of skill. A big point in its favor, it has proper intonation, so every fret sounds like it should.
The few weak points of the Rogue Starter are pretty common issues in guitars at this price point.
Its most grievous problem are its fret edges that can snag and nick your fingers as you move up the neck. This is fixable by taking a file to these overhangs and (gently) grinding them down. There are detailed instructions on how to do this here.
It's a bright guitar with a pretty weak low-range and highs that can sound glassy and harsh when you play them loud.
Despite this, it's a fun little guitar to play and will definitely hold you over while you save up for a better acoustic. We have a full review of the Rogue Starter you can read here.
Specs
Top: Spruce
Body: Wood
Back: Mahogany
Neck: Nato
Fretboard: Rosewood
Pros
Lightweight construction reduces player fatigue
Comfortable C-shape neck profile
Strong mid-range
Cons
Sharp fret edges
Extra-bright tone
Review
I used to be fully anti-Rogue, but after playing a few of their models and comparing them to my own emergency-purchase acoustic, I've come to admire them in a way.
Rather than the Starter's rosewood fingerboard, the RA-090 is equipped with a maple piece, which, somewhat unfortunately, adds extra brightness to the tone.
This overabundance of high-end isn't all bad, as the crispness really lets you hear where your technique is going wrong so you can learn to adjust your mistakes.
Judging by its lightweight build and full mid-range tonality, I'd guess its generic "whitewood" build is actually basswood. This tonewood choice keeps it low in cost and in weight, adding to its benefit for beginner players.
Like the Rogue Starter, the RA-090's frets need filed, but aside from this there are no major problems to talk about.
All in all, not a bad guitar for the price.
Specs
Pros
Great accessory bundle
Loud, full-size dreadnought
Available in different finishes
Cons
Completely unknown tonewood composition
Unstable tuning machines
Review
Martin Smith makes an array of entry-level instruments, but there's not a lot of information available about what they're made from.
Without an official company website and extremely vague specs listed in their sales pages, I can only guess at the tonewood combination based on feel and sound.
So, after a bit of time with Martin Smith's W-101, I can tell you that, like most guitars in this category, it's made of laminate basswood.
Its tone is very "basic acoustic," with not a lot of special points to mention, but totally pleasant and not too tinny like guitars in this price point tend to be.
It has good action, a standard neck, and fine intonation.
The reason the W-101 is one of the best acoustic guitars under $100 is that it comes with a great beginner bundle of accessories. This includes a strap, a gig bag for transporting your instrument, a digital tuner, picks, extra strings (always smart to have on hand), and a guitar stand.
By itself, the guitar is pretty average, but they give you everything you need to start on your way to acoustic mastery.
Specs
Top: Spruce
Body: Nato
Back: Nato
Neck: Nato
Fretboard: Rosewood
Pros
Easy to play slim neck with smooth rosewood fingerboard
Big, bold tone
Stable tuning machines
Cons
Flat harmonics, not very complex tone
Review
Getting into our higher-end choices in this category, we have the Jasmine S-35.
Jasmine makes finely crafted entry-level acoustics that have better attention to detail than many guitars at this price point.
They lack the problems such as sharp frets, poor intonation, and low-quality tuning machines that plague other low-cost models.
The Jasmine S-35 uses Jasmine's "Advanced X-bracing" to boost tone and volume, and its spruce + agathis tonewood combo gives it a well-balanced sound equally powerful in all ranges.
However, it doesn't have much in the way of overtones, so I find the tone a bit boring and basic.
It has a slim neck profile that makes playing fun and easy, reducing finger strain and allowing beginners to practice for longer stretches of time.
Overall, the S-35 is built strong and solid, making it a great low-cost beginner or travel guitar.
Specs
Top: Maple
Body: Basswood
Back: Maple
Neck: Mahogany
Fretboard: Mahogany
Pros
Squier by Fender means trusted quality
Punchy tones
Fast and fun slim neck design
Review
This is the steel-string cousin of the SA-150N that made our list of the best classical guitars for beginners.
Squier is a trusted name in guitars, and even though they're not necessarily known for their acoustics, they deliver a fine model in the SA-150.
Laminate lindenwood is used for the top and paired with mahogany back and sides. The result is a tone that responds well from the low to the high end, but lacks in the complex richness you'll find in solid top acoustics.
Nonetheless, it's a fun guitar to play, with a Fender-slim neck profile that has enough backing for solid chord progressions but a narrow enough radius to make riffing smooth and easy.
The SA-150's maple fingerboard makes it highly responsive and extra bright and articulate, so you can hear each note truly and really fine-tune your technique.
It's great for all acoustic genres but really shines in flatpicked bluegrass and fingerpicked blues.
With smooth frets, a solid build, and stable tuners, the SA-150 is one of the best choices for acoustics under $100.
Specs
Top: Spruce
Back: Basswood
Fretboard: Basswood
Pros
Acoustic electric design allows you to plug and play with tons of extra tones
Sturdy construction is warp resistant and withstands bumps and bangs
Players pack with a great padded gig bag and other accessories
Cons
Desperately needs a good set up
Can benefit from new tuning machines
Review
Here we have the only acoustic electric on this list, and it's a great value!
The accessories included in this pack could cost you $100 alone, but you get a ton of extras plus a good acoustic all for a very low cost.
Ashthorpe's Full-Size Thinline is a nice sounding acoustic electric that is really comfortable to play thanks to its reduced body depth and thin neck profile.
They chose a great tonewood combo of spruce and basswood, with a tone that's warm and pleasant and just bright enough to really shine.
It's got a simple electronic system that includes an under-saddle piezo pickup and a basic preamp with 4-band EQ. The electronics aren't great, but they do the job of allowing you to play through an amp and experiment with your tonal controls to find the sound that's right for you.
Interested in more acoustic electrics? We've covered the best affordable models in this article.
The cutaway design means you can play in the highest regions of the fretboard with no problem and really lets you explore the whole neck comfortably.
At such a low-cost, you might have money leftover for a cheap amp and effects pedal, so you can play around with effects, looping, and more to bring your musical experience to the next level.
Like most acoustics, it needs a set up out of the box, and its tuning machines are pretty low quality, so if you don't want to tune up every 10 minutes you will want to change these out for higher grade pieces.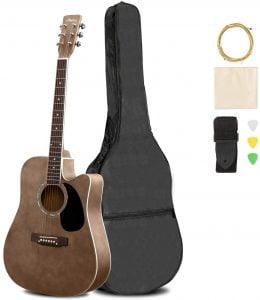 Specs
Top: Basswood
Body: Basswood
Back: Basswood
Neck: Maple
Fretboard: Maple
Pros
Great beginner's bundle with extra accessories
Solid linden top for added tonal complexity
Cutaway for easy access to upper frets
Cons
Wide neck can quickly tire beginners
Review
ARTALL is an obscure Chinese company that makes a wide range of different products, from bed sets to plush toys, so it's a bit surprising that they also make a high quality beginner guitar.
Fact is, the ARTALL 41 inch acoustic is one of the best guitars available under $100.
The thing that sticks out the most to me is that it's a rare non-electric cutaway acoustic.
Typically, a cutaway will mean an acoustic-electric model, and on low-cost guitars this means that the manufacturer skimps on basic construction points to add low-quality electronics.
With the ARTALL 41, you get the benefits of a cutaway and the upgraded quality of a solid top, sturdy build, and dependable hardware.
Plus, it's a beautifully finished guitar that you'll look good playing!
Its one downfall is that its neck is on the wider end of acoustics, so beginners might experience a bit more playing fatigue than with a slim neck design, and it's a bit too big for smaller kids.
All things considered, this is a great acoustic at an amazing price.
Buyer's Guide
Is it Worth Buying a Guitar for Under $100?
Worth is generally a subjective idea, and you'll have to think about what you want out of a guitar and how long you can save before making your choice.
I'm an acoustic addict, and to go without a guitar for any stretch of time makes me really uncomfortable. When I found myself without an acoustic and with barely enough money to afford rent, I had to get the first thing I could afford.
For me, my $60 Craigslist guitar was totally worth it. It kept me from boredom, depression, and songless despair, while allowing me to afford the basic necessities of life.
If you really want to play a guitar, NOW, and you don't have much extra cash, a guitar in this price range can be 100% worth the money.
Who Should Buy a Guitar in this Price Range?
I wouldn't recommend a guitar in this price range to a professional, but they're perfect for beginners.
If you're like me, that is, an upper intermediate player, and you really need an acoustic, these are all great choices in times of desperation.
Parents who want to enable their kids to explore a musical hobby can't go wrong with these models and don't have to worry about a sunk cost in something your kid might wind up with no interest in. You can check out more great guitars for kids in this article.
Can Acoustic Guitars for Under $100 Be Upgraded?
Some of these guitars have substandard tuning machines that almost need to be upgraded if you want to avoid the frustration of coming out of tune mid-song.
Changing your tuning machines is a great way to learn the basics of guitar maintenance and repair.
There are some other things that can cause tuning problems, so read here first to find out if it's really your tuning machines that need replaced.
Aside from that, I wouldn't focus too much on upgrading these guitars.
They're meant to be entry-level guitars, and outside of changing the tuning machines I wouldn't invest much more money in them, but rather save up your cash for your next new guitar, like something in the under $300 range that we've covered here.
What Are Guitars Under $100 Good For?
$100 guitars are great for when you need guitar fast. They're playable, sound okay, and aren't going to destroy your financial life.
When all you want to do is play at home or maybe jam around campfire, or if you're planning a hiking trip and know you need an instrument with you, these are great models to choose from.
That being said, they do have their limiations. For sure, if you want to start playing live, you should take a look at these acoustic guitars under $500, and for any serious recording sessions you'll want to see the best acoustic electric guitars for the money.
Guitars under $100 are intimate, personal instruments that are best suited for private practice, for students, or for throwaway instruments when you have rough travels ahead. Intersted in more travel guitars? Check out this review.
The Final Word
There's no shame in buying a guitar for under $100, and if this is the price range you can afford, any of the models listed above are guaranteed to meet your needs.
In this category we've got guitars for kids, acoustics for students, and full-size acoustic electric models for when you really need to check out some amplified effects.
Whether you choose the 7/8 Rogue Starter or the full-size ARTALL 41, you'll have a great time playing with the comforting knowledge that you can now start saving for the next instrument companion on your life-long musical journey.