5 Best Starter Acoustic Guitars Reviewed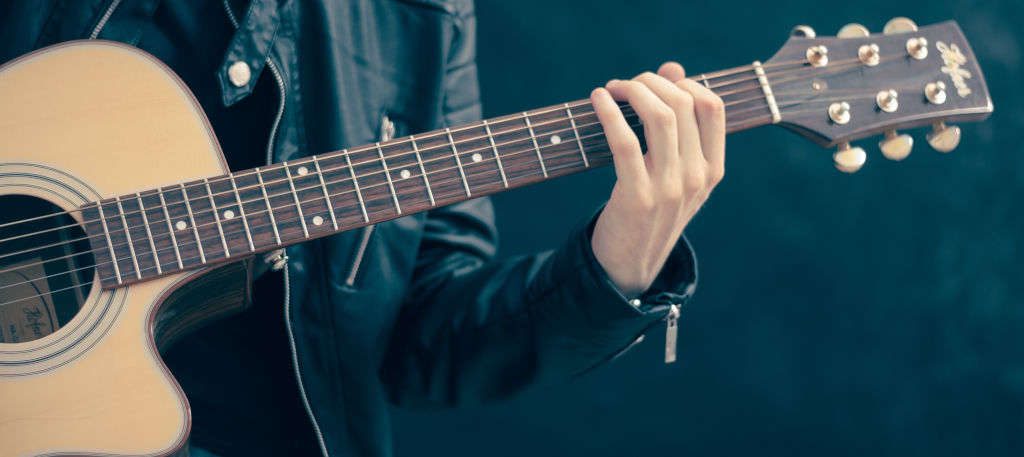 Picking a guitar as a beginner is a tough task since you don't know much about all the different brands and types out there. At the same time, you don't want to ruin your first experience by buying a low-quality guitar that will sound bad or will be hard to play.
Don't worry.
In this article, our experts reviewed only good beginner acoustic guitar models as well as provided actionable tips for beginners. Let's take a look at the list of 5 best beginner acoustic guitars.
Best Beginner Acoustic Guitars
Image
Model
Wood
Price
Fender CD-60S

Back/sides: Mahogany
Top: Solid Spruce
Neck: Mahogany

Check Price
Donner DAG-1С

Back/sides: African Mahogany
Top: African Spruce
Neck: African Mahogany

Check Price
Fender FA-100

Back/sides: Basswood
Top: Laminated Spruce
Neck: Maple

Check Price
Seagull S6

Back/sides: Wild Cherry
Top: Solid Cedar
Neck: Silver-Leaf Maple

Check Price
Yamaha FG-800

Back/sides: Nato/Okume
Top: Solid Spruce
Neck: Nato

Check Price
Fender FA-100


Full kit for learning
Full-dreadnought body
High quality
When I look back at myself being a complete beginner, the most important thing I wish I had back then is a high-quality acoustic guitar. The worse thing that can happen to a beginner is buying a cheap, low-quality model. Not only will this completely ruin the whole fun and excitement of playing the instrument but it may even completely kill your inspiration and passion for music.
The great thing about Fender FA-100 acoustic guitar is that this model provides high quality at a reasonable price. It has a full-size dreadnought body that provides full and vibrant tone. The acoustic guitar kit includes everything that beginners need when they start playing:
extra picks: (trust me, you will need a lot of those)
strap: to practice playing in a standing position
a digital clip-on tuner: needless to say that as a beginner you will definitely need a tuner since even a lot of advanced guitarists struggle to tune by ear
extra set of strings: it's always nice to have those so you can quickly replace a broken string without going to the store or waiting a couple of days for a new set to be delivered
Austin Bazaar instructional DVD
polishing cloth: yes, your guitar will get dusty so once in a while you will have to wipe it, especially under the strings on the fretboard and between the sound hole and the saddle
Bottom line: Fender FA-100 is a great budget acoustic guitar that has everything a beginner needs. Due to its size and shape, it is a perfect choice both for beginner teenagers and adults. Thanks to the acoustic guitar package you can start playing it right away.
Pros
Full kit for learning
Full-dreadnought body
High quality
Cons
Goes out of tune once in a while
Action could be better
Yamaha FG-800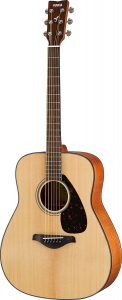 Great sound quality
Easily adjustable action
Robust structure
Similarly to the previous model on our list, Yamaha FG-800 is a great acoustic guitar that comes with a package for beginners.
Besides providing outstanding quality, which is essential for a beginner guitar, it is especially good for starters since it's easy to adjust the action on it. Very often new guitars have a high action which is not very good for beginner players. When you are a beginner it's already hard enough to learn all the chord shapes. If the distance between the strings and the fretboard is too high it means you will need to apply more pressure to make the strings sound. This will make playing chords even harder for you, which can make playing the guitar not fun.
Luckily with Yahama FG-800, you don't have to worry about high action. This model indeed has a little bit of high action – but the good news is that it's easily correctable. Read our full review of Yamaha FG-800.
Short summary: Yamaha FG-800 is definitely a high-quality acoustic guitar for beginners. Dreadnought body, quality sound, and starter's package – all these things make this model great for those who are just starting out.
On the other hand, it's a little bit more expensive than the previous model. Both options are worth buying so if you feel like you need something cheaper than go with Fender FA-100.
Pros
Great sound quality
Easily adjustable action
Robust structure
Cons
Strings need to be stretched
Seagull S6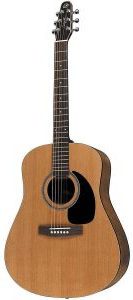 High-quality materials
Loud, clear sound
Tuners designed to stay tuned
Seagull S6 is another high-quality acoustic guitar that is great for beginners. Unlike most new models that tend to go out of tune more often, this model is equipped with a tapered headstock that provides stable tuning.
Tusq nut and compensated saddle provide better intonation, which definitely makes playing the instrument much more enjoyable.
Seagull S6 is made from selected Canadian wood materials. It includes a cedar top, maple neck, rosewood neck and bridge. The sides and back are made of wild cherry.
All the wood materials are outsourced locally and provide outstanding quality of the sound. While most guitars have Sitka spruce top, Seagull s6 has a solid cedar top that produces more profound sound quality. Read our Seagull S6 full review.
Pros
High-quality materials
Loud, clear sound
Tuners designed to stay tuned
Cons
Heavy mid-range tone not great for singing
Donner Dag-1C


Great for different music styles
Full starter kit
High-quality construction
Donner DAG-1C is one of the best budget acoustic guitars on our list. Besides the cheap price, there are many other benefits it offers to the beginners.
The full-size 41-inch dreadnought body provides full and vibrant tone. It makes this guitar great for such styles of music:
blues
jazz
fingerstyle
flamenco
rock
pop
A tip for acoustic guitar beginners: if you are a complete beginner, we recommend starting with learning blues pentatonic shapes. Not only this way you can effectively practice alternate picking (that is very important: the sooner you become good at it – the better) but you will also train your hear. A lot of great rock bands (like AC/DC) commonly use the minor blues pentatonic scale to write their solos.
Other than that, the guitar comes with a starter package, allowing you to start playing immediately.
Overall this guitar provides great value for the money and is definitely a great choice for someone who's just starting out and doesn't want to invest too much money yet.
Pros
Great for different music styles
Full starter kit
High-quality construction
Cons
Goes out of tune more often
Fender CD-60S


High quality
Value for the money
Ready to go right out of the box
Fender is one of the best acoustic guitar brands for beginners. This is their second model on our list and there is a good reason for it.
The guitar has a dreadnought body style and features a solid spruce top with scalloped "X"-bracing with mahogany back and sides. It also has a mahogany neck with 20-frets which is absolutely enough for beginners.
As most good beginner acoustic guitars, Fender CD-60S comes with a beginner bundle allowing you to start playing it right away. This model definitely provides great value for its money.
Pros
High quality
Value for the money
Ready to go right out of the box
Cons
Some accessories might be missing
How to choose an acoustic guitar for beginner – buyer's guide
Oh, the excitement and challenge of buying a first guitar! Kudos to you, the informed beginner, for coming as far as you already have. Not only have you made the decision to take up a hobby that will bring you and others a lot of joy over the years, you've chosen among hundreds of instruments to play the acoustic guitar.
Now that it's time to buy your first instrument, you've made the smart move of doing some research beforehand to find out exactly which acoustic guitar is the perfect fit for you to start with.
Whether you're planning to perform in public, sing serenades to your special someone, learn your favorite songs for your own enjoyment, or become the next acoustic innovator –  you want to pick a first acoustic guitar that you will make learning how to play a fun and enjoyable experience.
With that being said, let's look at some key points that WILL HELP YOU make the right choice with your first acoustic guitar.
You Get What You Pay For
Acoustic guitars have a huge range of quality, from custom made instruments that can cost as much as a house, to novelty acoustics that can be called guitars only in appearance.
If you're entirely new to playing an instrument, you'll probably want to keep your initial guitar purchase within a fairly low budget.
Beginner acoustic guitars range in price from $20 toy guitars to $700 instruments worthy of gigging with (example – Big Baby Taylor). If your plan is to play for years and guitar isn't a whimsical new hobby you're trying out, my recommendation is to buy the best guitar you can afford.
A high-end beginner guitar will hold up for years with the proper care, and will sound great the whole time, while a low-end beginner guitar might literally be unplayable.
It should be a crime to sell a guitar that comes broken, but if you pay less than $150 for a new acoustic, that's probably what you'll get.
The Red Flags of Beginner Guitars
Whenever I'm learning a new skill, I always find it helpful to immediately get out of the way WHAT TO ABSOLUTELY NOT DO.
If you find out from the start how to wreck something, you're way less likely to make that mistake in the future.
When purchasing a first acoustic guitar, there are a few signs to look for that will help you to avoid making the mistake of buying an instrument that you won't want to play after a few days of unpleasant picking.
Before anything else, let's learn what makes a guitar really bad.
Bad Bodies:
Even new guitars can come dinged and scratched. Some low quality manufacturers frequently ship guitars with significant body damage. If you have the chance to look your prospective guitars over before you purchase them, check for any damage markings.
The next thing you'll want to find out is if the top is made from solid wood or laminate.
Lower end guitars are often made with laminate woods to save on time and cost in the manufacturing process.
The problem with this is that laminate woods do not transfer sound as purely as solid woods do, and the lack of complex tones, if not super obvious to the beginner guitarist, will become more and more apparent the longer you play. If your goal is to play guitar for a long time and to love your first instrument, avoid guitars with laminate tops.
Nasty Necks:
I would argue that the neck is the most important part of the guitar.
Even with the worst sounding guitars, if the neck is good you can still learn the fundamentals and more.
A bad neck can render a guitar nearly unplayable. The most common problems with entry-level acoustic guitar necks are: curvature, separation from the body, and unshaven frets.
Checking for these three issues when purchasing a new guitar can eliminate the need for repairs after the purchase.
Step 1
First, hold the guitar at eye level and look down the length of the neck. A bad neck will have a significant bow and causes problems with intonation, while a good neck will be straight and allow all notes to play true. While this issue can usually be repaired by a guitar technician, I always pass on the guitars needing work for those that come ready to play, because I don't want to pay twice for the same instrument.
Step 2
Next, flip the guitar over and look at the junction where the woods of the neck and body meet. While usually only found very cheap or old guitars, the neck can become separated from the body at this point and can be costly to repair. When shopping for your first guitar, skip the headache and expense of buying something broken, and if you see this issue on an acoustic you're considering, move on to the next instrument.
Step 3
If the neck is straight and properly attached to the body, the final deal breaker you'll need to check for is the possibility of sharp, unshaven frets. Too many times have I cut my fingers on sharp frets, and now it's the first thing I check for whenever I play someone else's guitar. Gently, so as to not hurt yourself, feel with your finger along the sides of the neck. Unshaven frets will extend past the fretboard with a tangible edge. They can be shaven down, but again, this is a problem you should avoid having to deal with when choosing your first acoustic guitar.
Horrid Heads:
Quite honestly, I don't pay much mind to the head of guitars that I'm playing. If the neck and the body both check out, major issues with the head stock are uncommon. There are, however, a few things to look out for.
First, and most obvious, check for cracks.
New guitars should not be sold with significant damage, but a few manufacturers lack the quality control that prevents the shipping of a such an item, and they can slip through the cracks and into the hands an unwitting beginner guitarist.
If the head is all one solid piece like it should be, next thing you'll want to do is check the tuners.
Pick a string and tune it down a couple an interval or two
Then, tune the string back up to where it should be (or as close as your beginner guitarist ears can get it)
How's the knob turn?
It should be smooth, not difficult, with no major cracking or popping sounds. A tuner that is difficult to turn may be damaged and require replacement.
Does it hold position once you let go?
Slipping tuning machines are also a relatively easy repair, but should be something you consider passing on in your first guitar purchase.
It's best to buy an instrument ready to go and learn with.
The sooner you learn to play, the sooner you'll know your playing style and be able to choose a next guitar that is more perfectly suited to your individual preferences.
Strings: Nylon or Steel?
Now that you know what not to buy, let's figure out how to choose among the all the great beginner acoustics available to us.
While there is a lot of variety in types of acoustic guitars, most beginner guitars are fairly standardized. Aside from variations in body shape, the main choice you'll have to make when choosing a type of beginner guitar is whether you want to play with nylon or steel strings.
Nylon
Nylon strings tend to have a softer, warmer sound in comparison to steel strings. They are quiet, well balanced up and down the neck, and take less pressure than steel strings to produce clear notes. They are great if you want to play flamenco, classical, or fingerstyle folk music.
The number one complaint I hear from new guitar students is finger pain from fretting notes.
Guitars with nylon strings take less strength to play, and the strings are much softer on the fingers in comparison to steel string guitars. Additionally, nylon string guitars typically have wide necks with ample space between the strings, making it easier for beginning guitarists to identify which notes they may be muting when learning chords. They are often recommended to beginners for these reasons.
If finger pain is an issue for you, or if you simply are aiming to be a classical guitarist, a nylon string beginner acoustic guitar is not a bad choice.
Keep in mind though, the cheapest nylon string guitars are often very low in quality and might be very quiet and lacking in tone.
You may be drawn to the bargain of a $60 classical guitar, but if you're serious about learning to play you'll soon become disappointed with its lack of response and constant fret buzz. Nylon string guitars are also limited in that heavy strumming can easily break the strings, and they are not suited for all playing styles.
Steel
If pain is your main motivator for choosing nylon strings, I promise that your fingertips will soon grow much tougher after only a couple weeks of playing. I recommend steel string guitars to beginners for several reasons.
One, entry-level steel string guitars on the lower price-end are generally of higher quality than nylon string guitars of equal price.
Two, steel string acoustics are more versatile.
You can play hard with a pick, you can play soft with your thumb, you can play fingerstyle, you can strum.
You can learn any style of playing on a steel string guitar– I've learned Steve Vai solos, death metal breakdowns, jazz standards, bluegrass classics, all on the same steel string acoustic.
Three, if after you've learned the basics on a steel string, you decide you want to learn to play fingerstyle and focus on classical guitar, you'll fare much better with a higher end nylon string guitar than a lower end.
The main issue technical issue with steel strings on beginner acoustic guitars is that the high notes can either be really harsh and brassy, or otherwise lack sustain and be barely audible.
Truthfully, as a very beginner, this may not be much of an issue for you, because the fundamentals of learning guitar typically take place in the lower frets, and unless you're super ambitious, you might not play past the 12th fret for months.
Aside from your choice between steel or nylon strings, you might have a few choices in body style, although you're most likely to find dreadnought steel string guitars and classical style nylon string guitars in the entry-level category.
Buying by the Body
Once you know the very minimum standards of an acoustic guitar:
no sharp frets
no neck curve
no laminate tops
no slipping tuners
most of the rest of the buying decision is personal preference.
Choosing your guitar by the body is a choice in aesthetic and tonality. Among acoustic guitars for beginners, there really isn't that much variation in body styles.
For steel string guitars, you are most likely to find dreadnought, orchestra models, and grand auditorium (cutaway) models.
Dreadnought is probably what you picture when you think of an acoustic guitar. They are large bodied, have robust sound, and are versatile across many genres and playing styles.
I play an orchestra model, which is slightly smaller than a dreadnought, and has a more subdued, less punchy tone than is typical of dreadnoughts. Auditorium models, featuring a cutaway in the top bout of the body that allows for access to the higher frets, are great for guitarists who want to focus on learning solos and fully exploring the length of the guitar neck.
You may also find beginner acoustics that are built in the parlor style, which is the smallest steel string model, though admittedly I have not seen a beginner parlor guitar, and would not recommend them for a beginner who wants to experience the full range of what an acoustic guitar is capable of.
Nylon string guitars have less variation in body style, especially among beginner models. Most likely you will encounter a classical model.
Classical bodies are great for beginners with smaller statures, being small enough to be approachable yet large enough to fill a room with sound. They typically have wide necks with high action, which can make finding correct finger positions quite easy when learning the fundamentals.
Which Woods?
Personally, I didn't learn the difference in guitar tonewoods until years after I'd been playing. I chose my first guitar by: how it played, how it sounded, and how it looked.
Overall, I got almost a decade of great music out of that guitar.
However, had I known then what I know now, I may have saved money for a few more months to get a guitar that could last me a lifetime.
Knowing which tonewood pairs best with your desired playing style can help you to make a more informed decision that is likely to make your first acoustic guitar purchase one that you will never regret.
Most beginner acoustics, being on the more affordable end of the price spectrum, are going to be made from
Here are the basic things you need to know about each of the three.
Spruce – the most common tonewood
Lightweight yet durable, spruce has a fairly even response across all frequencies, meaning that your high notes will sound as good as your low notes and vice versa. Good for if you want to play hard without a lot of finesse, choose spruce if you plan to play mostly with a pick.
Cedar- softer wood than spruce
It also doesn't respond as well to aggressive, heavy playing. If you know you'll be playing a lot of fingerstyle, or strumming lightly some mellow tunes, cedar is a great choice.
Maple- the sound can be described as straightforward
It lacks a lot of complexity in overtones and harmonics, and as a tonewood makes for a guitar with a crisp, clear sound. Personally, I avoid maple, as I love a guitar with very present overtones, but if you like the sound of maple, you can't go wrong with a choice in a reliable tonewood.
And remember: buy a guitar with a SOLID WOOD TOP.
There are a ton of technical aspects to each guitar, and there's enough information on how to choose the your perfect first acoustic guitar to fill a book.
However, I'm largely of the opinion that you won't know what you want until you hear it.
My main recommendation to you is to play as many different guitars you can and pay attention to what you like and dislike with each kind.
Or, if your only access to guitars is through the internet, watch videos of people playing the guitars you are considering purchasing. Take note of the difference in sound and the different playing styles and genres that each guitar is best utilized for.
Find out what types of guitars your favorite musicians play.
What kind of tonewoods are they made of?
Who's the manufacturer and what makes their guitar sound special?
Music is personal, and everyone's preference is unique.
Take the time to find out what you love about acoustic guitar, and when then choose a guitar that allows you to express that love as you learn.
Recommended for reading: