Picking a guitar as a beginner is a tough task since you don't know much about all the different brands and types out there. At the same time, you don't want to ruin your first experience by buying a low-quality guitar that will sound bad or will be hard to play.
Don't worry.
In this article, our experts reviewed only good beginner acoustic guitar models as well as provided actionable tips for beginners. Let's take a look at the list of 5 best beginner acoustic guitars.
Best Beginner Acoustic Guitars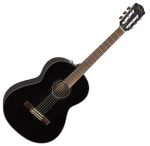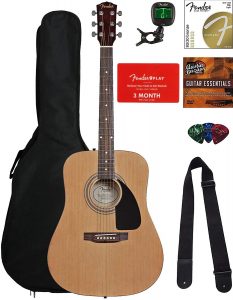 When I look back at myself being a complete beginner, the most important thing I wish I had back then is a high-quality acoustic guitar. The worse thing that can happen to a beginner is buying a cheap, low-quality model. Not only will this completely ruin the whole fun and excitement of playing the instrument but it may even completely kill your inspiration and passion for music.
The great thing about Fender FA-100 acoustic guitar is that this model provides high quality at a reasonable price. It has a full-size dreadnought body that provides full and vibrant tone. The acoustic guitar kit includes everything that beginners need when they start playing:
extra picks:

 (trust me, you will need a lot of those)

strap:

 to practice playing in a standing position

a digital clip-on tuner:

 needless to say that as a beginner you will definitely need a tuner since even a lot of advanced guitarists struggle to tune by ear

extra set of strings:

 it's always nice to have those so you can quickly replace a broken string without going to the store or waiting a couple of days for a new set to be delivered
Austin Bazaar instructional DVD

polishing cloth:

 yes, your guitar will get dusty so once in a while you will have to wipe it, especially under the strings on the fretboard and between the sound hole and the saddle
Bottom line: Fender FA-100 is a great budget acoustic guitar that has everything a beginner needs. Due to its size and shape, it is a perfect choice both for beginner teenagers and adults. Thanks to the acoustic guitar package you can start playing it right away.
Pros
Full kit for learning
Full-dreadnought body
High quality
Cons
Goes out of tune once in a while
Action could be better
Similarly to the previous model on our list, Yamaha FG-800 is a great acoustic guitar that comes with a package for beginners.
Besides providing outstanding quality, which is essential for a beginner guitar, it is especially good for starters since it's easy to adjust the action on it. Very often new guitars have a high action which is not very good for beginner players. When you are a beginner it's already hard enough to learn all the chord shapes. If the distance between the strings and the fretboard is too high it means you will need to apply more pressure to make the strings sound. This will make playing chords even harder for you, which can make playing the guitar not fun.
Luckily with Yahama FG-800, you don't have to worry about high action. This model indeed has a little bit of high action – but the good news is that it's easily correctable.
Bottom line: Yamaha FG-800 is definitely a high-quality acoustic guitar for beginners. Dreadnought body, quality sound, and starter's package – all these things make this model great for those who are just starting out.
On the other hand, it's a little bit more expensive than the previous model. Both options are worth buying so if you feel like you need something cheaper than go with Fender FA-100.
Pros
Great sound quality
Easily adjustable action
Robust structure
Cons
Strings need to be stretched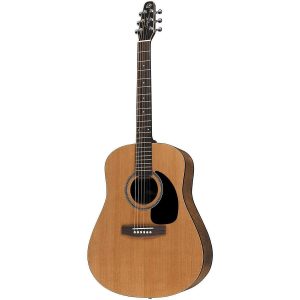 Seagull S6 is another high-quality acoustic guitar that is great for beginners. Unlike most new models that tend to go out of tune more often, this model is equipped with a tapered headstock that provides stable tuning.
Tusq nut and compensated saddle provide better intonation, which definitely makes playing the instrument much more enjoyable.
Seagull S6 is made from selected Canadian wood materials. It includes a cedar top, maple neck, rosewood neck and bridge. The sides and back are made of wild cherry.
All the wood materials are outsourced locally and provide outstanding quality of the sound. While most guitars have Sitka spruce top, Seagull s6 has a solid cedar top that produces more profound sound quality.
Donner DAG-1C is one of the best budget acoustic guitars on our list. Besides the cheap price, there are many other benefits it offers to the beginners.
The full-size 41-inch dreadnought body provides full and vibrant tone. It makes this guitar great for such styles of music:
blues
jazz
fingerstyle
flamenco
rock
pop
A tip for acoustic guitar beginners: if you are a complete beginner, we recommend starting with learning blues pentatonic shapes. Not only this way you can effectively practice alternate picking (that is very important: the sooner you become good at it – the better) but you will also train your hear. A lot of great rock bands (like AC/DC) commonly use the minor blues pentatonic scale to write their solos.
Other than that, the guitar comes with a starter package, allowing you to start playing immediately.
Overall this guitar provides great value for the money and is definitely a great choice for someone who's just starting out and doesn't want to invest too much money yet.
Pros
Great for different music styles
Full starter kit
High-quality construction
Cons
Goes out of tune more often
Fender is one of the best acoustic guitar brands for beginners. This is their second model on our list and there is a good reason for it.
The guitar has a dreadnought body style and features a solid spruce top with scalloped "X"-bracing with mahogany back and sides. It also has a mahogany neck with 20-frets which is absolutely enough for beginners.
As most good beginner acoustic guitars, Fender CD-60S comes with a beginner bundle allowing you to start playing it right away. This model definitely provides great value for its money.
Pros
High quality
Value for the money
Ready to go right out of the box
Cons
Some accessories might be missing
Recommended for reading:
If you have any question – let me know in the commends!
I've been Alan.
Till next time;)