Yamaha FG800 vs FG830 Acoustic Guitars Review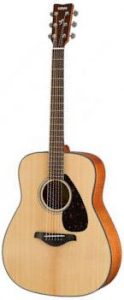 Body: nato laminate
Top:  solid sitka spruce
Neck: nato
Fretboard: rosewood
Scalloped bracing
Bright, with a loud bottom-end
Great for entry-level hobbyists
Purchasing a guitar can be a big decision. Conversely, it can be pretty inconsequential, nothing more than a purchase of whimsy.
It all depends on your intentions as a musician.
Do you want to become, or are you already a professional, playing shows and writing songs?
Or, are you just looking to learn how to play a few chords and riffs, be a little cooler, but all in all are not looking to invest much time and money in becoming a guitarist?
If you are the latter, the casual hobbyist, the FG800 from Yamaha is the perfect acoustic for you to learn the basics with a good sounding instrument.
However, if your aim is to be an acoustic virtuoso, and you plan to play for years and gain serious musical knowledge and talent, read on in this Yamaha FG800 review to find out why you might want to keep looking for a guitar with a bit more tone and finesse.
Pros
Very inexpensive
Choice of two finishes
Lightweight
Trusted brand and model
Well-defined notes and loud bottom-range
Cons
Needs set up upon purchase
High action
Lacking sustain in higher registers
Appearance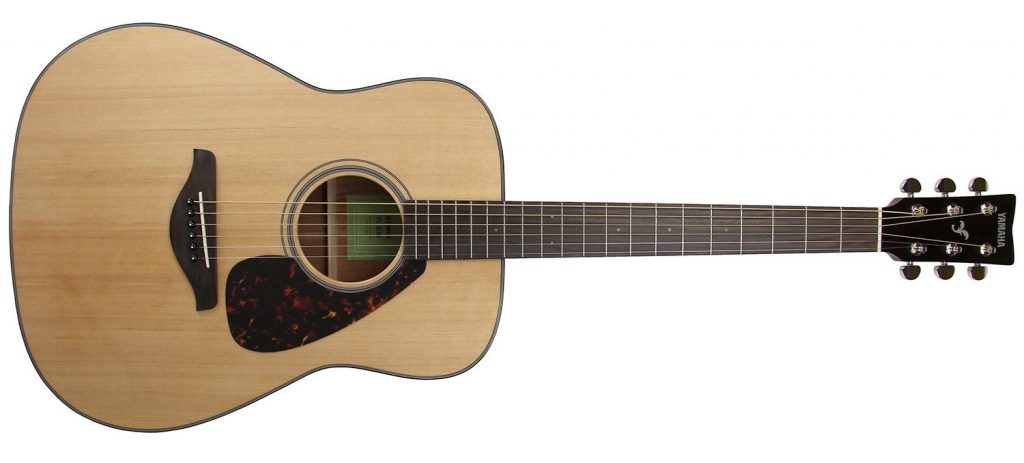 The Yamaha FG800 acoustic guitar is Yamaha's basic model; utilitarian, low priced, no frills. This is not a bad thing. Many sad sounding and poor playing guitars catch the unsuspecting beginner's eye with fancy finishes, faux pearl inlays, and exotic body and headstock designs. Without knowing better, you might pay three times what you would pay for the FG800 for a guitar that sounds just the same.
Yamaha knows the focus for a beginner should be on sounding good, not looking cool, and that is why the FG800 keeps its looks low key.
The sides and back of the Yamaha FG800 guitar are made of a dark brown laminate wood called nato, sometimes referred to as eastern mahogany for their similarities in look, feel, and functionality. It sports a solid top of Sitka spruce available in two gloss finishes, natural and sunburst, upon which sits the tortoise shell pattern pick guard, the rosewood bridge, and the plastic saddle. The sound hole is bordered by a very simple set of black and white rings.
A feature you might notice missing at this point is a strap button on the top bout, which is a non-issue for a casual learner, but for someone wanting to perform with this guitar in any capacity, that may sooner or later become a problem.
The neck of the Yamaha FG800 is the same dark nato wood as the back and sides, but with a matte finish. As a player with sweaty hands, this my personal preference for acoustic necks, but we'll talk more about that in the Playability section. Like so many other entry-level acoustics, the FG800 has a rosewood fretboard and basic plastic inlays. Rosewood is common for a reason– it's good enough; nothing to get excited about, but nothing to fret about either. Topped off with a headstock overlaid with rosewood and set with cheap, but functional, chrome coated tuning machines, the Yamaha FG800 acoustic guitar is overall your standard acoustic.
Construction
Here is where we will encounter our first flaw with the FG800, though not an issue which can't be fixed with a bit of know-how or a little extra cash. A common issue with most inexpensive acoustics, the action of the Yamaha FG800 is set up so high as to be unplayable past the 12th fret. To fix this, one must adjust the saddle height and the tension of the truss rod.
Having played acoustic for many years, this is still something I won't do myself and always pay a guitar tech to do. If you're a beginner buying the Yamaha FG800 as a first guitar, I would recommend you don't try to 
fix this yourself
.
This is the point at which those who dream of a long and flourishing musical career will start to see less value in the FG800. Once you buy it, it's either going to take work or more money to be right, and you might start to think you'd be better off making a different choice.
Getting past the obvious problem of too-high action, we can start to appreciate the things that make the Yamaha FG800 a good guitar for a true novice.
What sets this guitar apart from older models is the 
scalloped bracing
 inside the body. This forethought in the FG800's design adds a lot of volume and bottom end to a guitar which would otherwise lack a lot in those areas. The body is a little smaller than a standard dreadnought, and this, coupled with the solid spruce top and nato laminate sides makes this a really light guitar.
I like my guitar to have a bit of weight, but a beginner will find the FG800 easy to sit with and adjust to while finding their comfortable playing position.
Importantly, the frets are properly aligned and shaved so that they don't extend past the width of the neck. Some cheap acoustics (like the ones in my high school guitar class) have razor sharp frets that are honestly dangerous. If you didn't know that already, make sure you check your inexpensive prospective guitars for razor frets, and rest assured that you won't slice your finger playing the Yamaha FG800.
Playability
So aside from not cutting your fingers off, how does the FG800 play? That depends on whether or not you fix the action. Let's assume you do, and just say if the action isn't fixed on this guitar, I wouldn't play it.
The nut is just under 1.7 inches, which gives this guitar a really comfortable neck. It might contribute to a bit of accidental string muting when first learning how to finger chords, but by the time you start practicing scale patterns, you'll come to appreciate the narrow neck. The neck's matte finish is very smooth, and the nato feels good underhand.
High gloss on an acoustic's neck can start to grip sweaty hands, and whether you're a shaky beginner or a nervous pro, if you're playing like you should be, your hands are gonna sweat.
Sound
This is where I have to break the news to you: the Yamaha FG800 guitar doesn't sound bad, but that's about it. Personally, I find the tone to be boring, largely a factor of the solid spruce top. Spruce is a good tonewood– it's versatile, dependable, crisp, loud, and light, but it lacks in harmonic overtone and resonance. In the FG800, you'll get a guitar with a good, but never great, tone across the top, middle, and bottom ranges, and a decent amount of sustain in the lower end thanks to the scalloped bracing. However, high notes have short sustain and leave the player wishing for amplification.
Disadvantages
So, should you buy the FG800? If your plan is to become familiar with the guitar, but not to become an expert– if you never plan to make money playing music– if you're doing this just for fun– or if you just have $200 to put toward a new instrument, you'll have a hard time finding a better entry-level guitar than the FG800. Yamaha aimed to make a guitar that was Not Bad, and they succeeded in making a guitar that is just that: good enough to not be bad.
There are entry-level guitars that will cut your fingers off and not make a sound past the 10th fret. In comparison, the Yamaha FG800 acoustic guitar is fantastic and this is why we include it in our 
list of best acoustic guitars under $200.
If, however, you are a new guitarist with the plan to become really good at your instrument– to write songs, play shows, jam with other people often– to not just play the guitar, but to know it, the FG800 will soon lose the appeal of it's affordability and have you wishing you had saved for the next tier. When I started learning guitar as a kid, I practiced on the same kid-sized bottom-rung acoustic for years, because I knew I wanted my first guitar to be one that I would never grow tired of playing. If you want your first guitar to stand the test of time and perform reliably throughout your musical career, save your money for a better instrument.
FG800 Vs FG830
If you have an extra hundred dollars to put toward your guitar purchase, Yamaha offers a step above the FG800 with the FG830 acoustic guitar (read our full review here).
Many of the features are the same between the two models; they're about the same size and both are constructed with solid Sitka spruce tops featuring scalloped bracing, but there are several important differences. Cosmetically, the FG830 only slightly varies from the Yamaha FG800. Aside from the rosewood back and sides, the sound hole pattern is inlaid with abalone. Additionally, there are three different finish options with the FG830: natural, autumn burst, and tobacco sunburst.
Like the FG800, the Yamaha FG830 requires a proper set up upon purchase, which I consider to be the fatal flaw of these guitars. If you prefer high action, no problem, but this is for me a deal-breaker.
Unlike the FG800, whose sides and back are made of the inexpensive nato laminate, the FG830 features rosewood back and sides. This simple swapping of materials makes a tremendous difference in the sound, as the crisp mid-scoop of rosewood brings fullness to both the low and the high end, correcting one of the key issues of the FG800.
The necks of both guitars are made of matte finished nato, and feature similar headstocks. The FG830 sports twenty-one frets instead of the FG800's twenty, but in most other ways they are the same.
Read more: