Gretsch G5420T – a masterpiece that you can afford!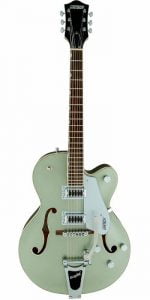 Fretboard: Rosewood
Neck: Maple
Body: 5-ply Maple laminate
Electronics: Black Top Filter'Tron Humbucking pickups
Controls: Master Volume, Master Tone, Neck Volume, Bridge Volume, 3-Position Pickup Toggle Switch
Quick Summary
The Gretsch G5420T is a single cutaway semi-acoustic guitar, well-suited for anyone wishing to master the vintage genres. From jazz to blues, rock to country, with rockabilly, fusion, folk and more in between, there's a lot perfectly suited to this guitar's punchy open tone.
Metalheads might want to start looking elsewhere for their axe, as the loose low-end and overall sparkle of the G5420T is never going to slaughter its way through a deathcore breakdown. But, with the range of electronic controls for the dual humbucking pickups, there's plenty of tonal variability to let you personalize your sound.
Being such an affordable guitar, your only chance of finding a better hollow body will be to scour yard sales and pawn shops. Just make sure you know what you're getting with a semi-acoustic before you commit, as a solid body electric might offer more versatility at a lower price if you're not specifically searching for the benefits offered by a hollow body.
Pros
Hollow body for warm, rich, punchy tones
Humbucking pickups with multiple controls
Adjustomatic Bridge for tuning stability
Cons
Not suited for playing all genres
Sound-post bracing causes feedback at high volumes
Jangly strings
Gretsch G5420T semi-acoustic guitar – in-depth review
There's a tone inherent to hollow body electrics that you can't find anywhere else. These versatile instruments have made a mark in music through every decade since their inception in the 1930s, helping to shape the course of rock, blues, country, and more.
With the Gretsch G5420T Electromatic Hollow Body, you just might be able to make your own special mark on musical history.
Construction
Despite its 1970s bad reputation and fall to bankruptcy in 1983, Gretsch bounced back strong into the guitar manufacturing game and remains a maker of quality hollow bodies favored by musicians such as:
Body
The G5420T has a vintage style Electromatic hollow body shape made of 5-ply laminate maple with a gloss finish. It features a single cutaway above a sturdy Silver Plexi pickguard embossed with the Gretsch logo, and is bound with aged white binding paired with black-white-black purfling.
Unplugged, the decent acoustic tone of this hollow body is thanks to the pair of bound oversized F-holes in the soundboard.
With a body depth of 2.75 inches, the G5420T is actually a bit thinner than the average hollow body, which normally measure from 3 to 3.5 inches deep. What's it matter? The deeper bodies give a bigger tone, but with this comes added weight that often results in player fatigue for players on the shorter side, myself included.
At 2.75 inches, the G5420T isn't unruly at all, and can be played comfortably by just about anyone.
The bracing of the G5420T is one of the few cost-saving production methods used to keep this guitar on the affordable end of semi-acoustics. Whereas the higher end Gretsch models use a labor-intensive system called trestle bracing, the G5420T is braced with a simple wooden dowel connecting the back of the body to the front.
This is called sound-post bracing, and while you'd probably never lament it if I'd never brought it up, some blame this bracing for contributing to the feedback problems they experience with this guitar when played at loud volumes.
One of my favorite features of the G5420T is the pairing of the Adjustomatic Bridge with the Bigsby B60 vibrato tailpiece. Aside from allowing for precise setups for perfect intonation, the trademark bridge moves sways with the movement of the strings when you whammy, helping to keep the guitar in tune as you play. Sure, you won't be able to pull a dime squeal with this vibrato system, but you don't have to be shy about letting your high notes wail.
Although mass-produced, the G5420T ships with a solid professional build, ready to rock for years.
Neck and Head
This guitar is maple through and through, from the body to the head. The maple neck measures in at a 24.6" scale length, and with 22 medium jumbo frets marked with Pearloid Neo-Classic thumbnail inlays, is comfortable to play in all positions.
The width of the nut, made of Graph Tech NuBone, is just a little bit on the small side, adding to the ease of playing up and down the classic rosewood fretboard.
Though the Standard "U" neck shape is not the most ergonomic for playing high speed solos, it creates a solid base for the thumb, ensuring great grip strength for difficult jazz chords and chunky triads.
The headstock is in the late 1950s Gretsch shape and features chrome-plated vintage-style open back tuning machines. It, and the neck, are both finished with gloss urethane. My one problem with this finish – it makes the neck feel sticky when my hands get sweaty.
Despite this, the bones of this guitar are reliable, perform well, and live up to the fame Gretsch has held for decades.
Electronics
There's a funny bit about the pickups in the Gretsch G5420T Electromatic Hollow Body guitar. Every mention of them you'll read about boasts that they're redesigned from a vintage Gretsch pickup from their "Baldwin-era."
It only takes a quick look at Gretsch history to know that this acclaimed Baldwin-era is marked as the decline in Gretsch guitar production that ultimately led to it's 1983 bankruptcy. But, does this mean these pickups are no good?
Not so!
With a little knowledge on utilizing tone controls to finesse your sound, you'll be happy to play with these pickups in a range of styles.
So, what are they?
In the G5420T, you get two of the same trademark Black Top Filter'Tron dual-coil pickups. These two humbuckers work together to transfer the full range of full open tones coming from the guitar's hollow body, and can be dialed to precision with their individual volume controls.
In addition to the volume controls for the neck and bridge pickups, there is a master tone control and a 3-way pickup switch, all under the influence of the master volume knob. Whether playing clean or distorted, you can get a wide range of sounds out of the G5420T if you use these controls to your full advantage.
Sound
Even unplugged, the full maple build of this guitar sings with a warm sparkle. Right out of the box it can surely use a setup, as you'll notice a bit too much string jangle if you play hard. But, plug it in and turn it up, and you'll see what makes hollow bodies a choice guitar for so many classic music styles.
Overall, the G5420T has a full-bodied voice that sings equally well in all ranges. If you know what to expect from a semi-acoustic in the lower end, you'll be happy with what you get. Just don't expect anything too tight from this guitar.
I'd call it loose up and down the neck, but that's fun and makes for a great jamming instrument. If you're going into this guitar planning to shred like Steve Vai or grind like Dimebag Darrel, get yourself a nice solid body.
But if you've got the blues or a case of honky tonk fever, if you want to learn the entire Beatles discography, or if you just want a solid guitar to find your signature sound on to write your songs with, this Gretsch Electromatic hollow body can holds up not just for its classic looks, but for its truly vintage sound as well.
Playability
As far as hollow body electric guitars go, this one from Gretsch is one of the more comfortable for a wider audience of players. Some semi-acoustics can feel uncomfortably heavy and unwieldy if you're not tall.
Although it might still be too large for a young kid to play easily, the sound-post bracing and thin body depth take a lot of weight out of the equation. Combining this with the low-average scale length and nut width, most people will find the G5420T fun and easy to play.
As mentioned before, it needs a setup to perform at its full potential, but even without this it's fun to play if you don't mind a little string rattle. The rosewood fretboard is smooth, the action is low, and the pickups are responsive.
Tuning to drop D to try to play a breakdown from my high school metal band results in a slurpy and disappointing churkachurkachurka sound, but this was never meant to be a guitar for metal. I tune back to standard and play some Zeppelin licks, and all feels well again with the G5420T.
Disadvantages
The main disadvantage of this guitar is that, for an electric, it really does limit your playing potential. But this is a historic instrument with a rich and colorful past, and when used for what it's best at, turns out to be perfect for the job.
For a
beginner guitarist
, I would think carefully before deciding to start with a hollow body. If you have strong ambitions to play a certain genre, make sure this is the right guitar for your goals. You might be better off with a purely acoustic guitar like the
Seagull S6
, or a solid body electric guitar like the Dinky Minion.
If I overlook the string tension as not a disadvantage but rather an attribute of a good blues guitar, that leaves only the problem of the pickups.
They're not bad, they're just minimal. You could play this guitar for years and never malign the sound, but these Baldwin-era pickups could stand an upgrade if you want to get the full sonic experience from the G5420T.