Best Electric Guitars For Small Hands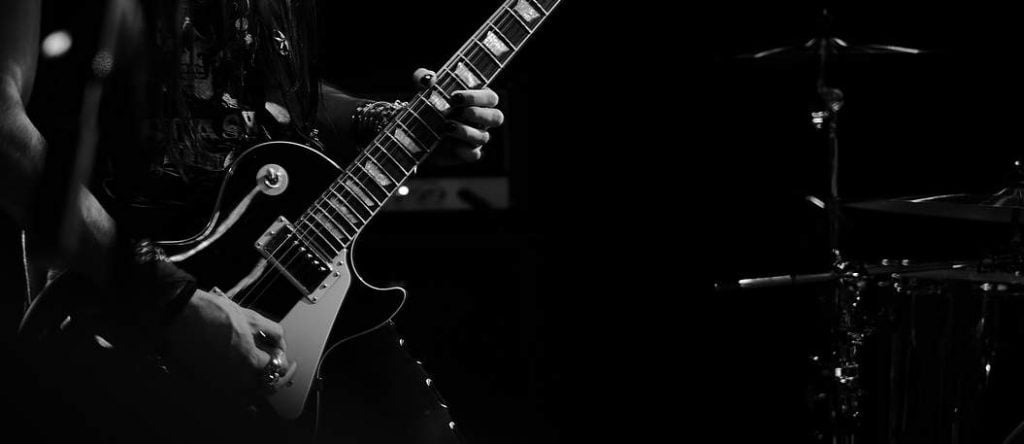 Choosing an electric guitar with a short scale size can be a great move for players with small hands.
Whether child or adult, it is important to feel comfortable playing your instrument.
If you're having a hard time fretting chords or running scales on a standard size guitar, check out this list of the best electric guitars for small hands.
Top Rated Electric Guitars For Tiny Hands
Image
Model
Wood
Price
Ibanez GRGM21BKN 3/4 Size Mikro

Back/sides: Basswood
Top: Laminated Spruce
Neck: Maple

Check Price
Jackson Dinky Minion JS1X

Back/sides: Nato/Okume
Top: Solid Spruce
Neck: Nato

Check Price
Squier by Fender Mini Strat
Check Price
Fender Mustang
Check Price
Ibanez GRGM21BKN 3/4 Size Mikro Electric Guitar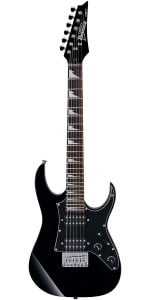 Solid signature Ibanez construction
Very Short Scale Length
Fast Playing Neck
Affordable Quality
Ibanez, a leader in the electric guitar market endorsed by greats like Joe Satriani, Steve Vai, and Eddie Van Halen, delivers a mini shredding machine in the Mikro series.
The Mikro's durable and fun to play design is perfect for children or entry level players on a tight budget.
Construction
Ibanez's Mikro series are scaled down versions of their full size GRG models. The GRG package includes a solid basswood body, a maple neck, and a fretboard made of jatoba with sharktooth inlays and 24 frets.
Ibanez's signature fast neck gives you full shredability with a scale length of only 22.2 inches.
Everything is built tight and secure; no shaking of loose tuning machines or pickups like you might expect in guitars that cost as little as the Mikro.
Tone
The Mikro comes outfitted with Ibanez Infinity pickups, which are, let's say, not the worst you could ask for.
While the basswood body can guarantee a balanced quality tone with the right hardware, the Infinity pickups leave a lot to be desired for the player who wants a true full-bodied electric guitar sound.
They're enough
for learning the basics
and aren't all that bad in the mid range, but the high end comes harsh and the lows are muddy.
You can bear with it, or mod it yourself with some better pickups to really get the most out of the Mikro.
Playability
I've always found Ibanez fun to play, and the short scale length of the Mikro series adds to the pleasure of pretending I can shred like Satriani.
This guitar is so easy to play, it voids the excuse of "It hurts my fingers."
Unfortunately, it is often shipped and sold needing a little work done to bring it up to standard.
Short scale guitars will often need the action properly set up and can benefit from a switch to lighter gauge strings.
Although a common and easy problem to fix on entry level guitars, the Mikros tend to ship with sharp fret ends.
Bottom line
The Ibanez Mikro is a great instrument for heavy metal kiddos, hobbyists who love to modify and upgrade electrics, or those just starting to learn electric guitar who feel they need a smaller model.
Pros
Solid signature Ibanez construction
Very Short Scale Length
Fast Playing Neck
Affordable Quality
Cons
Pickups with harsh highs and muddy lows
Needs set up after purchasing
Jackson Dinky Minion JS1X – Best Electric Guitar For Players With Small Hands


Chunky full sound
Available in range of popular models
2/3 body size
Maker of some of the most recognizable guitar models in metal music history, Jackson has consistently held an electric guitar spotlight through the endorsements of players like Randy Rhoads and James Hetfield.
The Minion series offers a chance for everyone to try their hand at shredding some sick riffs.
Construction
Jackson Dinky Minions are a solid small guitar. The super fast satin finished maple neck is bolted to the solid popular body in an axe 2/3 the size of a standard guitar.
24 frets over a 22.5 inch scale length make this ideal for people with short fingers as the space between each fret is minimal.
I've seen Jacksons take a beating and still play great, so if you're looking for a starter guitar for a rambunctious young rocker, the Dinky Minion is a great choice.
Tone
Jackson outfits the Dinky Minion series with Jackson High-Output Humbucking pickups, which bring big tone through the small solid body.
With the right amp, you can get a lot of crunch out of this little monster and pull off some raging squeals in the high end. Some might say it sounds dirty – I say it sounds metal.
Playability
The low action of Jackon guitars might make the Dinky Minion awkward for a beginner learning chords.
They don't accommodate a lot of clumsy strumming, but for a serious-minded beginner focused on learning the elements of rock, the Minion presents itself as a perfect starter axe.
Bottom line
I have a nostalgic affinity for Jacksons – they were the guitar of choice for the guitarist in my high school metal band, and I always thought his guitar sounded great and was a lot of fun to play when we weren't practicing.
Among these small guitars, the Dinky Minion stands out as my favorite.
Pros
Chunky full sound
Available in range of popular models
2/3 body size
Cons
Tuning machine instability
Not great for learning chords for country/folk/etc.
Squier by Fender Mini Strat


Clear, crisp, balanced tone
Sounds good for many music styles
Slim, short neck
Fender has been such an iconic name in electric guitars for so many decades, when you picture an electric, odds are it's one of their original models that comes to mind.
The Stratocaster debuted in 1954, and this scaled down version of the Bullet Strat series carries the essence of vintage rock in a low-priced and dependable starter instrument.
Construction
Mini Strats are made with basswood bodies and maple necks in a bolt-on assembly.
With a scale length of 22.75 inches, it is the third smallest guitar in this list. 20 medium frets with a slim neck profile make this a great guitar for a beginner who plans to transition to a standard sized instrument later.
To the detriment of the Stratocaster reputation, many people have complained of tuning instability in the Mini Strats.
You have a few options here: replace the tuning machines, switch to a lighter gauge string and hope for the best, or get really good at tuning your guitar.
Tone
The Mini Strat's tone is a perfect sonic illustration of "you get what you pay for."
You're paying for a fraction of a Stratocaster, and with it is a fraction of the full Strat sound. Everything is balanced well in this guitar, lows to highs, and it sounds good across many genres and playing styles. It's just a bit watered down, so to speak– the essence of what a Strat can sound like.
You'll never want to play a show with this axe, but to learn the trade on as well as it is
a great travel guitar
, it's enough to enjoy.
Playability
The fret spacing and double cutaway Stratocaster body shape allow for perfect access to the highest areas on the fretboard, so there's no part of this guitar that's difficult to play.
The slim "C" shaped neck profile and short scale length make this one of the best electric guitars for small hands.
Slipping tuners will always be an impediment to perfect playability, but remedy that issue and you will have a great entry level guitar.
Bottom line
With a balanced, bright tone that sings well through rock, country, jazz, blues, and more in a small package reminiscent of the origins of rock and roll, the Fender Mini Strat is a great guitar to get anyone started on their musical journey.
Pros
Clear, crisp, balanced tone
Sounds good for many music styles
Slim, short neck
Cons
Inadequate tuning machines
Thin sound
Fender Mustang


Well-constructed
Great balanced tone
Almost 2" shorter than most electric guitars
The Fender Mustang has a long history as a popular electric guitar, put to use by rock legends like Jimi Hendrix, Adrian Belew, and Kurt Cobain.
Since they hit the market in 1964, Mustangs have only gotten better, keeping the vintage body construction while upgrading to high quality modern electronics.
Construction
Mustangs are made with bodies of solid alder, a medium density wood that facilitates a great range of tones. 22 frets over a 24" scale maple neck are all wide open to the fretting hand. Everything is solid and stable in this true rocker of a guitar.
Tone
Alder and maple are a great tonewood pair.
Alder brings in the thick lows and full mids but can fail a bit in the highest registers. Maple's bright upper register and overall sparkle fill out the tone of the Mustang.
Every fret sings clear and true; it even sounds good unplugged.
Crank up the volume with the dual Fender Mustang Single-Coil pickups, and you'll see why this guitar and other similar Fenders have been the preferred guitars of so many greats.
Playability
From rock to pop to jazz to funk to country, the Mustang is a smooth play.
It features a slim "C" shaped neck that players with small hands rave about. Alder is not a very heavy wood, making the Mustang lightweight enough for children.
The 24" scale means you'll be able to pick out the power chords in any position, and even the smallest hands, with the proper technique, should have no trouble playing scales up and down the neck.
Bottom line
For its price, the Mustang could be either a high end entry level guitar, or a low end professional instrument.
Really, its popularity over time is a testament to its quality and versatility.
For the beginner, it's a perfect guitar for learning any genre and style.
And for the seasoned pro, it's a great project guitar, ready to show its full potential through a couple upgraded pickups.
Pros
Well-constructed
Great balanced tone
Almost 2" shorter than most electric guitars
Cons
22 frets may feel limiting to some pros
Can lack a little in the higher end tones
Other Considerations
There are several other guitars with shorter scale lengths that I could write about, with Fender offering a few of the best.
Fender's standard scale length is 24 inches, and you can find this in Jaguars, Mustangs, DuoSonics, etc. Ibanez is known for producing guitars with some of the slimmest necks in the industry.
PRS commonly uses a 24.5 inch scale, but become irrelevant when considering their wide and fat neck builds.
Scale length is pretty standard among electrics, 25.5 inches being the most common. 24.75 inch scale guitars are abundant, but often have wide neck profiles and less than 24 frets, not being specifically suited for players with small hands.
These are some of the smallest, best electric guitars for small hands on the market.
I advocate to every musician: consider all your options, then go with the instrument that feels the best for you personally.
With enough practice, finger stretches and exercises, and determination, I believe you can play any guitar with any hands.
More electric guitar recommendations by Alan Jackman: