Best Acoustic Guitars Under $300 Dollars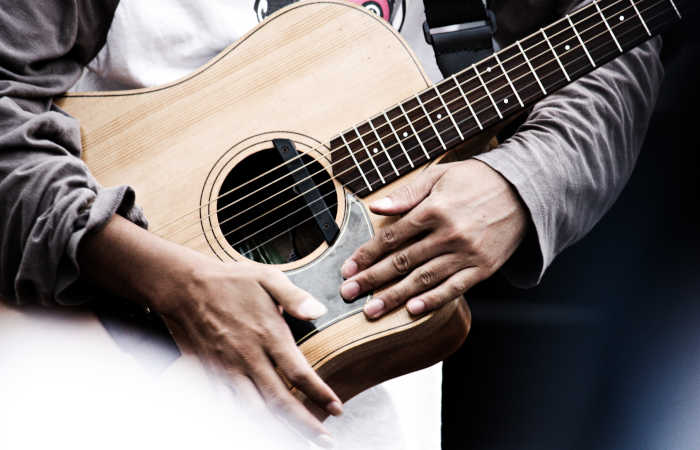 Your options are wide open to find a cost-friendly, high quality instrument that will guarantee you years of enjoyable music making. I've covered five of the best acoustic guitars under $300, from the popularly esteemed Yamaha FG830 to the hidden gem of the Ibanez AC340. These guitars are made from a range of different tonewoods, ensuring a versatile choice in sound and playing style; so, whether you're an absolute beginner or an intermediate player looking for a new affordable guitar, you can be sure there's an acoustic here for you.
Top 5 Best Acoustic Guitars Under $300 – In-Depth Research
Image
Model
Wood
Price
Ibanez Artwood AC340


Top: Mahogany Wood
Body: Ovangkol
Back: Mahogany Wood
Neck: Mahogany
Fretboard: Mahogany

Check Price
Takamine GD20-NS


Top: Cedar
Body:
Back: Mahogany
Neck: Mahogany
Fretboard: Rosewood

Check Price
Alvarez Artist Series AF30


Top: Spruce
Body: Mahogany
Back: Mahogany
Neck: Mahogany
Fretboard: Rosewood

Check Price
Fender CD-60S


Top: Mahogany
Body: Mahogany
Back: Mahogany
Neck: Mahogany
Fretboard: Mahogany

Check Price
Yamaha FG830


Top: Spruce
Body: Rosewood
Back: Rosewood
Neck: Nato
Fretboard: Rosewood

Check Price
Specs
Top: Spruce
Body: Rosewood
Back: Rosewood
Neck: Nato
Fretboard: Rosewood
Pros
Solid top and dreadnought body for a loud, pure tone
Specially designed bracing for optimal sound quality
Dependable die-cast tuners
Cons
Requires setup to ensure proper intonation
Review
I used to be a Yamaha fanboy in my younger years of playing guitar, but even now that my tastes have changed to fancy guitars with a bit more tonal nuance, beginners can't go wrong with choosing the FG830. It's a big, loud acoustic that projects a balanced tone and plays smooth, performing well in virtually any style and genre of acoustic music. Sure, it's not a gigging guitar, but it can hold its own in at an open mic. As is true with most new guitars, the FG830 definitely needs a setup from an experienced guitar tech if you're not able to do it yourself, but once it's ready, you'll be able to jam joyfully on this dependable acoustic for years. If you want to know more and compare this model to more in the Yamaha line of acoustics, check out our full Yamaha FG830 review.
Specs
Top: Spruce
Body: Mahogany
Back: Mahogany
Neck: Mahogany
Fretboard: Rosewood
Pros
Beautiful overtones from spruce+mahogany tonewood combo
Heat- and pressure-treated techwood neck is resistant to warping
Smaller folk body size sits and plays comfortably
Cons
Low action might cause fret buzz when played hard
Review
I love a folk style body in my acoustics. While they're a bit smaller and thus quieter than a full-size dreadnought, their sloped shoulders sit comfortably in the lap and make upper fret access a bit easier. The AF30's folk body and spruce+mahogany tonewood combo create a warm, smooth tone that's perfect for fingerstyle folk music and blues. Singer-songwriters will love this guitar's midrange clarity, while acoustic rockers will appreciate the punch in its lower end. Though, it is worth pointing out that if you're a heavy-handed player who strums hard, you'll find that the AF30's low action might be too buzzy for you, but you can learn to finesse your playing style with some of our handy guitar tips. This one small con is no reason to overlook what is otherwise a great affordable acoustic, and with a bit of finesse, you can use this guitar for nearly any style.
Specs
Top: Cedar
Back: Mahogany
Neck: Mahogany
Fretboard: Rosewood
Pros
Slim, comfortable neck
Cedar+mahogany tonewood combo for warm, mellow sound
Pinless bridge for quick and easy string changes
Cons
Tone is murky at high volumes
Narrow nut width might make fingerstyle difficult
Review
While I've not had a very high opinion of Takamine guitars in the past, the GD20-NS changed my views entirely. This was the first guitar I've played with a cedar+mahogany tonewood combo, and is now one of my favorites for its accentuated tone with just the right amount of earthiness without drowning out the treble. As primarily a fingerstyle player, I was hesitant about the narrow nut width at first, but after familiarizing myself with the GD20's fretboard, I had no problem playing my usual patterns. This acoustic is great for players with softer playing styles, as the dreadnought body projects its tone with enough clarity and volume without having to strum hard. It needs a setup badly, but afterward it's a perfect beginner acoustic. Acoustic rock players might not find it to be the best guitar for them because the tone loses clarity when played forcefully, and some might be turned away by the unusual ovangkol wood that comprises the fingerboard. If you can overlook these two small points, you'll find the GD20 is a steal of an acoustic.
Specs
Top: Mahogany
Body: Mahogany
Back: Mahogany
Neck: Mahogany
Fretboard: Mahogany
Pros
Neck meets body at 14th fret for great upper fret access
Rolled fingerboard and signature "Easy-to-Play" neck profile are fast, comfortable, and beginner friendly
Loud, balanced, classic acoustic tone
Review
A Fender acoustic guitar may seem odd if you're only familiar with their electric models, but the CD-60S is proof that they can do beginner acoustics just as well as anyone else. They keep a lot of classic acoustic aspects, such as the dreadnought body and spruce+mahogany tonewood combo, but add a bit of Fender flair to make the CD-60S a unique guitar. It's loud and stands up well to hard playing, but doesn't falter in fingerstyle or soft strumming. For rock and outlaw country, this is the perfect kind of acoustic, but players wanting to branch into classical styles or fingerpicked folk will have no problem finding their voice on this guitar either. It's well-suited for learning, as the neck is Fender's signature "Easy-to-Play" design, which fits comfortably in the hand, and the rolled fretboard reduces player fatigue which plagues beginner guitarists. My favorite feature of the CD-60S is that the neck meets the body at the 14th fret, as compared to the 12th fret joint of many other acoustics. This means that if you're feeling frisky and want to try ripping out a classic rock solo on this dreadnought, the upper frets are much more easy to access than you'll typically find on an acoustic.
Specs
Top: Mahogany Wood
Body: Ovangkol
Back: Mahogany Wood
Neck: Mahogany
Fretboard: Mahogany
Pros
All mahogany build for full overtones and luscious mid- and low-range
Grand concert style body is small and comfortable to hold
Bone nut and saddle provide pure string resonance
Cons
Natural, open-pore finish not appealing to some players
Review
I'll be the first to admit that choosing the best guitar is mainly a matter of preference, but with all considerations, I think the AC340 is the best guitar for the cost on this list. The tone is about unbeatable for an acoustic guitar under $300, sounding as good as some guitars that cost three times the price. With a grand concert style body, you won't get the sheer volume that a dreadnought is capable of, but you get a guitar that's super comfortable to play and has an absolutely beautiful voice in any register and style of playing. Ibanez uses quality materials in the construction of the AC340, from the all-mahogany tonewoods, to the high-quality tuners that stay where they should, to the nut and saddle made of purely resonating bone. I'm not sure why this guitar isn't more well-known; as a beginner guitar it has virtually zero flaws. The main issue I can see players having with it is the open pore finish, but this is something I actually prefer over the high-gloss finish of most acoustics. In some AC340s, the finish may be a little rough in spots, but overall it's built to a high standard of quality that was unknown in entry-level acoustics a decade ago.
Buying a Good Acoustic Guitar Under $300 – How To Pick a Good One?
What Can I Expect From An Acoustic Guitar Under $300
$200-$300 is about the lowest amount you should expect to pay to get a decent acoustic guitar that will keep you wanting to play. You might get lucky and find a used guitar at a lower price, but for a new guitar, anything below $200 will probably too cheap to want to play for long. Not long ago, guitars in this price range were made cheaply and rarely featured solid tops, but nowadays manufacturers have realized that quality gets customers and that people don't want to spend a few hundred dollars on a piece of junk instrument. At $300, you can expect all the basic requirements of a good acoustic guitar: solid wood tops, dependable tuners that stay in tune, good action, properly ground frets, and maybe a bonus feature or two. What you can't expect are: cutaways, perfect finishes, flawless intonation, or high quality electronics.
Who Should Buy A Guitar In This Price Range?
I'd recommend the $200-$300 price range for any and all entry-level guitarists, and nothing less. If you're seriously considering playing guitar, don't sell yourself short, and make your first instrument purchase one that you'll be glad you made 5 years from now. A bad guitar will make playing hard and unpleasant to hear, so make sure you don't start your musical journey out on the wrong foot.
Players looking for a travel guitar are looking in the right place when they're considering a $300 acoustic. They're often built to stand up to changes in temperature and humidity, being resistant to warping that can ruin a travel guitar. They sound good enough to want to play for people, but won't stress you out if they're dinged or scratched along the way.
Anyone looking for a guitar to play at small-time gigs like open mics or just an average guitar to keep around the house can't go wrong with a guitar in this price range. They're comfortable and fun to play, and while the tone may not be worthy of crowd-packed auditoriums, no one in an open mic crowd is going to scoff at a $300 acoustic.
What To Look For in a Guitar Under $300
I tend to say the same thing all the time about what to look for in a guitar, no matter the price range, and the reason for that is there are just a few key elements to be aware of when making a guitar purchase. You need to make sure it's built right, with no major problems that will prevent you from happily playing this guitar for years.
First and foremost, look for any obvious damage, including cracks, chips, dents, scratches, etc. Minor scratches in the finish won't hurt anything as far as sound goes, but if the headstock, neck, or body woods are cracked, moisture can seep in and turn an otherwise nice guitar into an unplayable dud in a short amount of time.
Most new guitars in this price range are going to need setups, so don't be too surprised by high action or improper intonation right out of the box. These are easy to fix and don't cost that much to be remedied, while the value they add to your future playing time is beyond measure.
Anything with plastic tuning machines, walk away from. Make sure the tuners rotate smoothly and change the pitch of the strings with an even flow. Avoid any guitars that tune in pop-and-snap increments.
$300 acoustics shouldn't have sharp frets that extend past the fingerboard, so if you find this in a guitar you're considering, odds are it's not built to what has now become the industry standard of entry-level quality.
There's debate about whether laminate tops are truly inferior to solid tops in acoustics, but the general consensus, and my personal opinion, is that solid tops overall sound better, transmit tones more purely, and sound better with age in a way that laminate tops do not. So, I always recommend seeking out a solid top guitar, and a $300 acoustic should proudly state this feature.
Should I Buy a Used Guitar?
I really love used guitars, but make sure you know what you're getting before you make the purchase. As with any guitar, inspect it for damage beyond merely superficial scratches, and don't buy anything that comes broken. Do your regular quality check: inspect the tuners, the intonation, and the fret edges. In addition, make sure the neck isn't bent or curving due to mistreatment over the years, and try to avoid buying guitars in which the fretboards are overly worn or chipped.
You can sometimes find really nice used acoustics at a fraction of the price you would buy a guitar of comparable quality new. There's nothing that inherently makes a new guitar better or worse than a used one, unless you just dream of having an instrument that's been only yours. To me, I think you can feel the love in used guitars, and am always on the lookout for an old acoustic needing a new home.
The Final Word
Thankfully for all us musicians current and future, the ingredients required for the recipe of a good guitar are cheaply available to manufacturers in a way they've never been before. For a few hundred bucks, you can buy an acoustic that will bring you year after year of musical progress and guitar playing joy. All you need to know is what to look for and what to watch out for. Hopefully, this of five of the best acoustic guitars under $300 has shed some light on an instrument or two you're interested to call your own, and I wish you happy playing!