Best Classical Guitars Under $500 Reviewed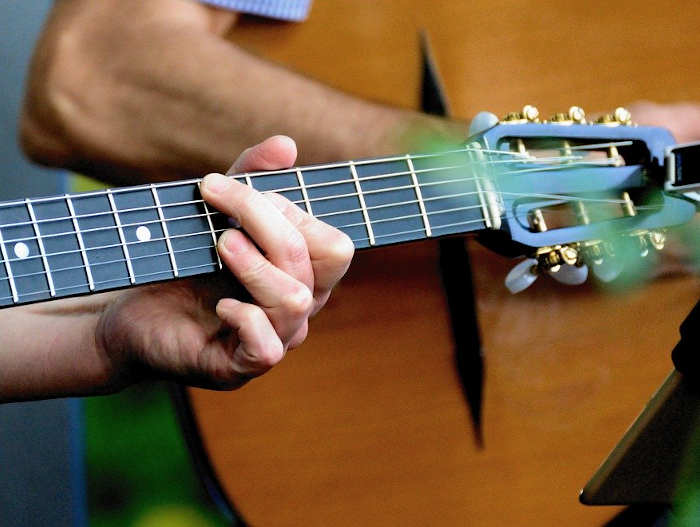 Classical guitars can sometimes look all the same, so it's hard to find the best classical guitars for the price you want to pay. You'll find yourself wondering what's important to know about each guitar and how you can decide on what classical guitar is best for you.
From the many brand names that are out there to the different models available from each, it's a huge job to decide what classical guitar is the best one for you to buy.
For me, anything under $500 is an appropriate amount to spend on a classical guitar. This ensures that you will get a quality product that will play nice, but you won't break the bank with spending a ton of money on a guitar.
The guitars listed below are the 5 best classical guitars under $500. If you choose one of these, you will get a quality instrument that sounds good, is fun to pick up, and will last you a long while.
The 5 Best Classical Guitars Under 500 Dollars:
Pros
High-quality truss rod and saddle make this guitar of the highest quality.
An impeccable sound that is worth more than it costs.
This guitar sells for $400, which is a huge bargain.
Cons
Some people might find the look of the body to be a little plain.
Like the body, the head is a little generic and boring.
This North American guitar is my favorite classical guitar under $500 that I have come across. It's got it all and is just an enjoyable instrument to pick up and play.
The radiused neck and fretboard are smooth and elegant for the ultimate experience when playing any style of classical music. The body is a perfect size and fits in your hands perfectly, to the point where you don't want to set it down.
The body is made of Solid Cedar (more about guitar wood types here) on the front and Wild Cherry on the back and sides. While the front finish is a traditional, basic finish for classical (and acoustic guitars), the finish on the sides and back is a beautiful color that looks elegant and professional.
I can only think of two cons for this guitar (and those cons are more about preference than a negative), and that pretty well sums up my feelings about this La Petrie Etude Classical Guitar.
It feels good, looks good and plays amazing.
If you want a guitar that will do everything you need for many years and for an affordable price, this is the guitar for you!
Pros
It can be plugged into an amp or speaker to be used in different settings (like live shows).
The finish and appearance of the body makes this guitar look unique and sharp, especially for a classical guitar.
A good mix of quality and sound for the affordable price it is offered at.
Cons
This guitar's sound doesn't blow you away but isn't terrible either.
The materials used are dependable but not of the highest quality.
A little more expensive ($30) than the La Petrie Etude guitar, which is a much better classical guitar.
I don't have to tell you much about the Yamaha brand name and about the wide range of guitars they build. From acoustic guitars and electric guitars to classical guitars, Yamaha truly does it all in the guitar world and has been doing it for many years.
For someone who likes Yamaha, and is looking for a good classical guitar that has a good price tag, the Yamaha CGX122MSC is a great find.
It has a solid spruce top with Nato back and sides, which gives it a cool look as far as classical guitars go. The darker wood on the head and bridge really polish this look and make it one of my favorite classical guitars to look at in a long time.
When you buy a Yamaha classical guitar, you know you're going to get a well-constructed and nice sounding instrument. With the CGX122MSC, that's definitely the case. It looks and sounds good, but doesn't blow you away.
The unique look and ability to plug it in makes it intriguing to someone looking for a classical guitar under $500 and appeals to intermediate players who are looking for something that's a little different than the other classical guitars they have owned previously.
Pros
A unique, sharp-looking finish on the body that makes this classical guitar stand out.
Cutaway allows you to do different things further down the neck on this guitar than you can with other classical guitars.
This guitar comes with a nice soft carry bag that is very useful.
Cons
While I love the finish on the body, I don't love the mahogany sides and back. Would love to see a darker finish.
The sound of this classical guitar is nothing amazing but is a decent sounding instrument.
Not every classical guitar player will like the finish and the cutaway on this guitar.
Since we're talking about great-looking classical guitars, let's talk about the Cordoba C5-CET Thinline. This guitar has a unique solid Canadian cedar top that really stands out among other classical guitars. The sides and back are mahogany, while the bridge and fingerboard are made from rosewood.
One thing that stands out to me immediately is the soft cutaway that allows you to really play further down the neck.
The unique finish, soft cutaway, and plug-in capabilities make this guitar pretty different than other guitars on this list. If you enjoy a cutaway on your classical guitar and want to plug-in, then this is probably a guitar that you will love.
If you like a traditional-looking classical guitar and don't need to plug it in, then maybe it's not your best option.
For me, I love the finish on the body and just wish they would have made the sides and back a darker stain. That look would have combined with its nice sound to make this is a very unique classical guitar.
Pros
It comes with a beautiful, soft case that is great if you are planning on moving this guitar often.
A beautiful classical guitar sound that is deep and thick.
Made from materials that make this guitar durable and long-lasting.
Cons
It has a deeper classical guitar sound that might not be what everybody wants.
Very plain look that isn't unique, and definitely won't stand out among classical guitars.
This guitar didn't blow me away and was a little underwhelming as I played it, but looking back is a guitar that offers good sound and is high-quality. It has a traditional look and a deep classical guitar sound that will play nicely for many years.
The Kremona Soloist S65C was the biggest surprise on this list for me as far as the sound it provides. It has a thick, classic sound that is deep and loud.
This classical guitar has a Solid Western Cedar top and Sapele on the back and sides. It is handcrafted in Europe and follows many traditional classical guitar qualities as far as the look and sound, which many people love, while others find boring.
One thing I love about this guitar is the high-quality carry case that comes with the guitar, making it easy to move around with this classical guitar.
If you are looking for a classical guitar that will sound good playing traditional classical guitar music, then the Kremona Soloist S65C might be the guitar for you.
5. Ibanez 6-String Classical Guitar (GA15NT-¾) Check On Amazon >>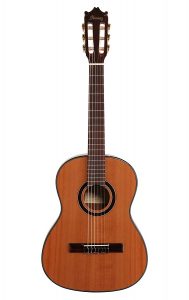 Top: Cedar
Back And Sides: Mahogany
Pros
Easy to play and fun to use when exploring different songs and sounds.
The look is unique and different than most classical guitars.
Being able to buy this guitar for under $350 makes this a great option for beginner and intermediate players looking for something a little different.
Cons
It doesn't have a traditional classical guitar sound and many people might find it weak.
The materials used aren't the highest quality products as far as classical guitars are concerned.
Designed for beginner to intermediate players and might be looked down upon by expert players.
You don't hear a ton about Ibanez when you are talking about classical guitars, but I enjoy this classical guitar.
It's simply made with a unique look and sound that has a nice price tag of under $400. The cedar top isn't unique, but the dark mahogany sides and back, along with the black ring around the soundhole give it a cool look that appeals to many people.
The head is one of my favorite classical guitar heads in a long while, with a spiked top that makes it look longer than other classical guitars.
The materials used for this guitar aren't anything special, but the finished product has a sound that differs from most classical guitars in its price range. It is higher sounding and closer to an acoustic guitar sound that many other guitars, and can put a different spin on traditional classical guitar songs.
This Ibanez classical guitar is the wild card on my list that might not be loved by everyone who is looking for a classical guitar that's under $500.
It has a unique look, feel, and sound that is something fresh in a world that lives off of tradition. If you want to turn some heads, this Ibanez classical guitar might be for you.
Buyer's Guide to Buying a Classical Guitar Under $500
It shouldn't be a problem finding a good classical guitar for under $500. From my experiences, I have played many great classical guitars that have been in the price range of $350 to $400 – some are even less.
We are spoiled in today's world, where great guitars are being offered at an affordable price for us. The 5 guitars above are just a few options when considering great classical guitars that come in with a price tag that is under $500.
What To Expect From A Guitar In This Price Range
If you buy a classical guitar that is under $500, you will be getting an instrument that is good, but not great. It might not have the strongest sound on the market, but you should be able to find a guitar that fits the sound you'd like and allows you to get by.
The same goes for appearance. You may not find a classical guitar made out of the best materials, but you'll be able to find one that looks good and lasts a while (if taken care of).
When you're searching for a classical guitar that comes in at under $500, you'll be buying a classical guitar made for a beginner to intermediate player that looks and plays good – just maybe not great.
How Do You Choose?
There's lots of options when searching for a classical guitar under $500 – so how do you choose the best one for you?
A few things you should consider are:
What's most important: sound or look?
What guitar feels good in your hands?
What sound will fit best with the type of music you want to play?
What are the reviews saying online?
What guitar is closer to your price range?
What does your gut say?
After considering all of these questions, you should take some time to think about all of your options. Listen to experts who know what they're talking about, most importantly, go with your gut!
Used or New?
Choosing between used and new will come down to the options at hand. If a used guitar is available that is in good shape, checks off all of your boxes, and is within your price range, then how can you not go with it?
The problem with used guitars is that you are at the mercy of what's available to you at the time that you want to buy a classical guitar.
If the guitar you want is available new, then purchase a new guitar. But I do recommend looking at the used ads first to see what's available. You might be able to find a real gem for an affordable price.
Final Word
Picking a classical guitar is a fun task to take on and, if you have a budget of $500, you have lots of options to choose from.
Have some fun with it and don't rush. Find the classical guitar you love and go with your gut when you find it. The creativity that comes out of your guitar will depend on your love for the instrument and finding the classical guitar for you could impact the music you make.