Taylor Big Baby Taylor Review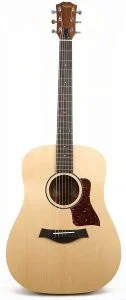 Top wood: Sitka Spruce
Body woods: Layered Sapele
Cutaway: none
Electronics: none
Scale length: 25-1/2″
Frets: 20
Body length: 19 1/2″
Bracing: X Bracing
Tuners: Die-Cast Chrome
Quick Summary
Some people might get confused with the name of the Big Baby Taylor Guitar. Is it a big guitar, or is it a baby guitar? Is it for jumbo players or is it for juniors?
Well, all of the above is correct!
It's a small guitar (a 15/16 size body to be exact) that junior and beginner players will love – but it also has a big sound that older, more experienced players will be impressed with. In general, it was designed for young players (experienced and inexperienced) who have small hands and need a smaller, high-quality guitar.
CMUSE even named the Big Baby Taylor Guitar the third-best Taylor guitar to buy in 2019.
Taylor is known for its high-quality products and great sounding instruments, and this guitar is in-line with that criteria. It has great craftsmanship, premium quality products, and is built to withstand many songs and chords.
Pros
When you purchase a Taylor product, you are getting a quality product that will last
This guitar is perfect for the serious junior player (or small-bodied person). Small in stature, but large in sound
Perfect traveling guitar for the experienced player who wants something smaller that still packs a punch
Cons
The design and look of this guitar are somewhat boring
Because of the thinner back, this is not a guitar known for its low-end bass sound. It has a higher, thinner sound
I don't want to call this guitar expensive, but it is on the higher end of pricing for guitars that are designed for beginner players
Big Baby Taylor – in-depth review
This guitar was designed and made for junior players and beginners, but the guitar world has accepted it and loved it as well. Many well-known guitar publications have given it a 4+ rating out of 5 in their reviews and have raved about the great sound it has.
On Amazon, it boasts a 4 out of 5-star rating and has very many positive comments from new players to experienced players. It's not perfect, but for a beginner guitar, it's very good. It sounds good, is made from products of high-quality, and is great for traveling with.
The the price tag is not overly expensive (especially for a Taylor product) but it's also not cheap. It's somewhere right in the middle and would be a great value for someone who buys this guitar and uses it a ton – but too much more money for someone to spend on a guitar that goes untouched and unplayed.
Construction
We have come to expect the very highest quality from Taylor products because they always deliver. Every guitar is built to last, sound good, and feel good. As consumers, we appreciate that consistent reliability and will pay more for a Taylor guitar because of it.
So it comes as no surprise that the Big Baby Taylor Acoustic Guitar is another high-quality, well-built instrument that sounds good. While this guitar doesn't have the heaviness and expensive feel the big-bodied Taylor guitars have, this guitar still has that unique 'Taylor Guitar" feel to it.
In total, the Big Baby Taylor Acoustic Guitar's dimensions are 43.5 x 16.25 x 7.2 inches and it weighs in at only 11 pounds. The size is what you'd consider a ¾ dreadnought, making it much smaller than full-bodied acoustics. This makes it easier to play for younger players and people with smaller arms and hands.
This guitar (along with their other guitars) is constructed just over the Mexico border in a high-tech, well-established Taylor plant.
Body
The ¾ sized body includes a Sitka-Spruce top with Sapele-laminate on the back and sides. Believe it or not, this body is the same length as a full-body but it's skinner and thinner.
It is only 4 inches deep, which is a half-inch thinner than a full-body acoustic. It might not seem like much, but the difference is very noticeable and is significant to smaller players who want an easier playing size, as well as travelers who want to easily carry the guitar.
The Big Baby Taylors body has a matte finish on very high-quality products that makes you think that it is indestructible at times (it's not so don't try smashing it!). The body rests nicely on your legs and feels very light, especially if you are used to playing full-body guitars.
The body's look is pretty typical and doesn't stand out though. It doesn't have any unique qualities and might even be considered 'boring' to some players who enjoy an instrument with a different look. If having a guitar that looks different than everyone else's is important to you, the Big Baby Taylor Guitar might not be the guitar for you.
Neck/Head
The neck of the Big Baby Taylor Guitar is made from Sapele-laminate wood with an Ebony fretboard.
The guitar's head isn't anything unique or different. It has a dark stain with the word 'Taylor' across the top, while the tuner knobs are silver and rounded so they are easy to use.
Electronics
The Big Baby Taylor Acoustic Guitar doesn't have any electronics and cannot be plugged into a speaker or amplifier. This guitar is a pure acoustic model and is not an Acoustic-Electric model.
There is also no tuner built-into the guitar.
Sound
Overall, the Big Baby Taylor Guitar has a nice sound that is very acoustic and crisp. It is distinct and, considering the size of it, very thick. Of course, it doesn't have the deepest, thickest sound because of the smaller body, and the sound doesn't provide much bass.
This guitar can be used for any style of music but sounds best for picking, compared to strumming. That doesn't mean it sounds bad when you strum it, but it sounds really crisp when you use it for fingerpicking.
Playability
The playability factor is what really makes this guitar as good as it is and why it has received such good reviews.
It isn't the best guitar on the market when describing sound but there are no complaints about the playability. It is light and small so you can easily fiddle with it whenever you want.
This is the perfect guitar to bring to a bonfire or to the beach to pass around. Everybody will enjoy their time playing the Big Baby Taylor Guitar.
Disadvantages
When you look at the Big Baby Taylor Guitar and consider buying it, you have to understand who the guitar is made for. It's designed and caters to young players (as well as smaller people) who want a guitar that is smaller than full-sized acoustics.
This guitar is thinner and easier to use, which means the sound is also thinner and smaller. For many, this isn't an issue, but more experienced players may find it lacking and petite. It doesn't have a rich, bassy sound that really amplifies like full-sized Taylor acoustics and doesn't always sound the best with aggressive strumming.
The smaller sound combined with the fact that there are no electronics means the sound from this smaller bodied guitar can only travel so far at any given location.