Taylor 214ce Review – A Thorough Analysis of This Top-of-the-Line Model!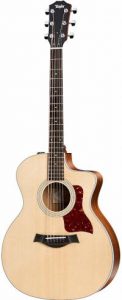 Top: Solid Spruce
Neck: Sapele
Body: Spruce
Fretboard:Smooth ebony fretboard with 20 frets
Full body size
Quick Summary
This acoustic guitar made by Taylor is an outstanding, top quality product that will please everyone, from the ambitious beginner guitarist to the travel worn veteran.
This full-size and full sounding guitar, while somewhat expensive, is made from excellent products and includes some of the very best electronics.
Taylor, who has a great reputation for quality guitars, did an excellent job creating the 214ce with every decision being made for a reason. All in all, everything blends together almost perfectly to create a guitar worth checking out.
Pros
A crisp, rich sound that stands out among other acoustic guitars
Top quality construction
Stays in tune for very long periods
Cons
This is an expensive acoustic guitar
The action may need to be adjusted when you take it out of the box
Other adjustments may need to be made
Taylor 214ce – in-depth review
Everytime I have picked up a Taylor guitar, I have been impressed by the incredible quality. Even before I strum, and I am just holding the guitar in my hands, there's something about Taylor guitars that screams top quality.
While most of their products are on the pricey end, if you're looking for a good acoustic to last you a long time I would definitely recommend trying out a Taylor. The 214ce is no exception!
This guitar's Grand Auditorium Body exudes a loud, thick sound like very few acoustics I have ever played. Many brands and acoustic guitar makers could learn from Taylor and their 214ce.
Construction
The 214ce by Taylor can accommodate a wide range of players because of how dynamic the Sitka spruce body can be. On the back and sides, you'll find a layered rosewood.
The materials make this guitar's body lightweight and durable, while also being resilient and strong. The sapele neck is polished but not glossed, which means you'll be able to move your hand comfortably without your hands sticking. You will be amazed by the smooth movements you'll be able to make along this neck.
For the electronics, you'll be amazed at how good this guitar sounds plugged into an amp, whether you're in your basement, out at a coffee shop, or playing a large venue.
Top to bottom, Taylor's done an excellent job constructing this guitar by making the right decisions at the right time.
Body
The front body of the Taylor 214ce is made out of a beautiful Sitka Spruce. On the back and sides are a Layered Koa that compliments the front, in sound and looks. The light front and the dark sides and back aren't shocking but still looks really nice.
The saddle is Taylor's brand new Expression System 2, which boasts breakthrough technology and years of studying.
The Taylor 214ce's best asset is it Grand Auditorium body is its best asset. It's wide bottom and narrower waist allows it to absorb into your thigh like very few acoustics I've had the pleasure of playing. This signature shape, with the single cutaway making it easier to play up the neck, is friendly and comfortable to hold on your knee.
On top of the sleek design, the body style helps create the excellent sound – the biggest asset of this guitar. Every note seems to reverberate through this guitar like a miniature ballroom you're able to set on your thigh.
What do you get when you combine a Grand Auditorium body, a Sitka Spruce front and a Layered Koa back? An excellent sounding Taylor 214ce acoustic guitar.
Neck/fretboard
The Taylor 214ce neck is made of Sapele wood, with a fretboard of beautiful ebony wood. The excellent wood choice, combined with the polished but not glossed cover makes for a neck and fretboard that is slick, but not sweaty.
The movements your hand will make along this neck will be easy and effortless. You won't even think about everything that's going on because the guitar won't let you. You'll just glide along the wood.
Head
Follow that neck and fretboard all the way up, and you'll come to the head. A small but important part of any guitar, especially an acoustic guitar like the Taylor 214ce which is all about the combination of perfect materials.
The head is finished with a Satin, while the overlay is the same type of Ebony found on the fretboard.
While I usually am not drawn to the head of any guitar, the head of the Taylor 214ce is one of my favorites ever. The dark wood with the simple, balanced look and 'TAYLOR' written across the top seems to pop and compliment the light body and silver tuning knobs.
Sound
The Grand Auditorium body style (more on body styles here) and the great materials that make up this guitar create the ultimate acoustic sound. Thick, strong, vibrant and rich. From fingerpicking to strumming, I have no complaints behind the acoustic sound that resonates from this instrument.
With the Expressive System 2 amplification system, this acoustic can now be plugged in for a sound that is just as good as unplugged in a small, comfortable room. The ES-2 combines all the latest technologies and the result when combined with an amazing guitar like the 214ce is a clear, acoustic amplified tone.
Oftentimes, when you take an excellent sounding acoustic guitar and plug it in, you lose a ton of the acoustic qualities that made you fall in love with the guitar in the first place, before you plugged it in.
While it always sounds good, you may need to play around with the action and the strings you choose to use on the guitar. From making a few small tweaks, you'll get it playing even better than it did in store, or straight out of the box.
Playability
Unless you are completely against large, strong guitars with a reputation of sounding excellent, I don't think you'll have too much problem with the Taylor 214ce. While I could understand if someone wanted an acoustic that wasn't so much… well guitar, everyone would have to admit the sound this guitar makes is excellent.
As far as playing, I love the cutaway and the how the narrow waist seems to sit perfectly on the leg. For lugging it around, the guitar is heavy (as to be expected) and has a large head. But it doesn't play like a heavy guitar.
With the slick polish on the neck, my hand seems to glide up and down like I'm playing a Les Paul or a smaller acoustic. The fretboard isn't wide, and the cutaway allows you to play high up the neck quite easily.
If someone does have an issue with the playability of this acoustic, I would like to hear it because I'm not seeing much to complain about.
Appearance
The appearance is classic and very nice, but nothing attention grabbing or ground-breaking. The body's narrow waist gives it a young and fresh look, but the colors and pickguard are pretty standard. I would dare say that someone buying this guitar is more worried about wowing you with great sound vs wowing you with looks that kill.
I will say that upon further viewing, and after playing the guitar, it does stand out a bit more and become recognizable. The layed koa stain on the sides and back provides a wood cabin-esque appearance and the head's simple elegance still stands out to me now.
My favorite appearance related decision would be the neck color and how it appears with the darker back of the body. By looking at the lighter brown neck, you almost know your hand is going to glide smoothly before even touching it.
Disadvantages
As you can tell, I really like this guitar. It's a great combination of performance, sound and appearance. I would love to pick this guitar up every day and strum a song or two. I know it would sound good, it would need little maintenance and it would last me a long, long time.
That's the easy part.
But the big disadvantage for me is the price point. It's just a bit over what I would usually spend on acoustic guitar, not matter how well it plays.
While shortcuts is not something Taylor usually does, I ask myself what it would take to get this guitar's price down. But, because the electrical is so advanced and the guitar sounds so good plugged in, this guitar is more marketable to the serious player who will be taking this guitar on stage somewhere. And, because of that, the price point increases a lot.
Other than the high price, and a few small things you'll want to look at when you take the guitar out of box (mostly just the action), this is a pretty flawless instrument created by the people at Taylor.
They know quality and they've done it again with the 214ce. Now, I'll keep my eye out for something along the same lines, but without such a high price tag.