Whether you are a beginner or an experienced player, you might not know what the best mandolin is for you without doing some prior research on the topic. That's why we're here.
Our goal today is to give you a comprehensive list of the best mandolins available to you on the market in 2022. As it's always a smart idea to develop an informed opinion before purchasing any instrument.
So, without further ado. Let's get right into it. Starting off with…
Top-Rated Mandolins For The Money
The Loar LM-700-VS Supreme F-Style Mandolin is a mouthful to say out loud. But don't be turned back by its long name. The Loar LM-700 is the pinnacle of mandolin craftsmanship available on the market right now. And although it's a bit pricy, coming out to around 1000$ USD. What it offers in its package is well worth the money. So, let's look at what it comes with.
For starters. The Loar LM-700 is an 8-string mandolin, of which the strings are made out of alloy steel. It weighs around 6.45 pounds or just under 3 kilograms. Its top is made out of hand-carved solid AAA spruce. While its bottom and sides are made out of hand-carved solid flamed maple. It also comes with a bound ebony fretboard. All finished with a hand-buffed lacquer cellulose sunburst finish.
This specific mandolin is catered more towards experienced players, and not so much towards beginners. But, for the experienced players, there probably isn't a better option under 1000$ right now. So let's round it all up.
Pros:
Excellent craftsmanship and materials
Beautiful design
Cons:
A bit expensive
Doesn't come with a case
The Ibanez M522SBS F-Style Mandolin is probably one of the best economy options there are on the market right now. Of course, it being an Ibanez product, you know that the quality is guaranteed. As Ibanez has proven itself time and time again over the years to be a brand that delivers top-notch products in a variety of price ranges. So, let's take a look at the M522SBS.
The Ibanez M522SBS F-Style is an 8-string mandolin. Its top can be made from a variety of woods, which are rosewood, maple, mahogany, and spruce. While its back is made out of either maple or mahogany. Its neck is made out of mahogany. And it also comes with gold die-cast tuners with Pearloid knobs. It's all finished with a pleasant brown sunburst lacquer.
As we mentioned earlier. The M522SBS is probably one of, if not, the best economy option there is. Coming in around 329.99$. It's a package that both beginners and experienced players can enjoy. So, let's sum it up.
Pros:
It's easy to play, as the bridge allows you to adjust the height of the strings
It looks very aesthetic with its F-Style shape
It's durable and will probably last you a long time
Cons:
It isn't the most premium option there is
It's an acoustic
It doesn't come with a case
The Kentucky KM-270 A-Style Mandolin is a beautiful traditional mandolin that echoes us back in time to the days of old. It's a design that both beginners and professionals can appreciate. So let's give it a look.
The Kentucky KM-270 A-Style Mandolin comes with 8 strings which are made out of alloyed steel. Its top is made out of high-quality Sitka spruce, giving you that crisp bright tone. While its back and sides are made out of solid carved maple. The neck is also made from the same maple, while the fretboard is made out of choice East Indian rosewood, which offers you smooth playing and transitions along the neck. All of this is finally finished by a high-gloss sunburst lacquer.
The KM-270 sits comfortably at around 595$, but there are some options that sit at 536$. It's an excellent guitar to acquire if you're an intermediate player looking to expand your arsenal. One more mandolin won't hurt, would it?
Pros:
High-quality materials
Elegant, easy-to-play design
Great tone
Cons:
Might look a bit plain to some
You might need to send it into the shop for it to be set up upon arrival
The Donner DML-100B A-Style Mandolin is probably the best package that any beginner can get for their money. And here's why that's the case.
The Donner DML-100B A-Style is an 8-string mandolin. Its body is made out of AAA African mahogany. While its finish can either be a black or a sunburst lacquer.  Its tuners are made out of die-cast steel. A rather unremarkable mandolin, if it wasn't for the great ancillaries that it comes with.
It comes with its very own carry bag, something remarkable considering that most of the other entries on this list don't have it. It also comes with its own tuner, spare strings, extra picks, and a cleaning cloth. A perfect package if you're looking for a gift for someone.
Pros:
Affordable
Great design counteracts the rather simple materials
Comes with a ton of useful ancillaries
Cons:
It's targeted toward beginners, rather than long-time players
The materials are decent, but not the best
The Eastman MD305 A-Style Mandolin is an interesting entry to this list. It's a hand-crafted design which is fairly inexpensive considering that fact. And it really shows. So let's take an in-depth look at it.
The Eastman MD305 A-Style is an 8-string mandolin. Its top is made out of solid spruce. While its back and sides are made out of solid maple. And its neck is made out of rosewood. The bridge as well as the fretboard are made out of ebony, and what's neat is that the bridge is also adjustable. Its A-Style body along with its F-Style holes offers it pristine sound projection. All of this is finished by a classic matt brown.
Its craftsmanship really shines through once you pick it up though. It's a perfect instrument that has become very dear to both beginners and professionals alike.
Pros:
Beautiful wooden look
Excellent craftsmanship
Great selection of materials
Cons:
A bit too expensive to be a beginner instrument
Another mouthful on this list is the Oscar Schmidt OM10EWH-O-U A-Style Mandolin. And while it is breathtaking in the literal sense. It's also breathtaking in what it offers for the price.
It's an 8-string mandolin that uses alloyed steel. It comes with a select spruce top. Mahogany sides and back, as well as a mahogany neck. Its fingerboard on the other hand is made out of ovangkol and it has a distinctive long horn bullet bridge design. And it comes with a rather simple white finish. The best part is that it only weighs 2 pounds or just under 1 kilogram. And, it's electric!
It really is an impressive package for the price it sits at. Coming in at around 203$, but if you want a rosewood fretboard then it's gonna cost you more. It's 330$ for the rosewood option.
Pros:
It's an electric mandolin
Very cost-effective
Good design
Cons:
Rather plain looking to some
Not the highest quality of materials
The Gretsch G9320 New Yorker Delux Acoustic-Electric Mandolin is the best of both worlds in a single package. Giving you both an acoustic tone, with the capabilities of plugging it into an amp for gigs in a larger auditorium. Let's take a look at it.
For starters, it's an 8-stringed mandolin. Its top is made out of either mahogany, rosewood, or spruce. While its back is made out of solid mahogany. Its neck is made from mahogany, while the fingerboard along with the bridge are made out of rosewood. It all comes with a nice vintage semi-gloss finish. Its pickups are Piezo electrics and its body is that of the A-Style.
The G9320 sits comfortably at the 379$ price point. An excellent option if you need a mandolin with utility.
Pros:
Both acoustic and electric
Excellent materials
Good sound quality
Cons:
The vintage look might not be for everyone
What to Look out for When Buying a New Mandolin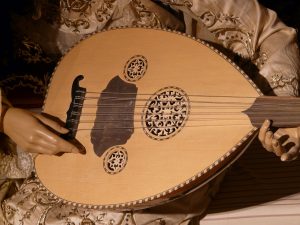 As with any instrument, there are certain factors that are universal among them. Yet, there are also certain things that are particular to the specific instrument. So let's look at what those factors are and explain why they are important.
The Wood
The material that the mandolin is made out of is obviously very important. This is true for all instruments regardless of what they are. Certain woods produce lighter sounds, others produce darker sounds. Certain woods are more resistant to the elements, while others are not so much.
What's more, the grade of the wood is also an important factor. No two woods are the same. They might be the same type, but not the same grade. Higher grade wood obviously leads to higher quality instruments in the end.
Electric or Acoustic Mandolin?
This factor comes down to personal preference. First, ask yourself. What are your needs? Do you need a mandolin to record something? Then maybe getting an electric is better for you. Would you like to just learn the instrument? Then a cheap acoustic would do just fine.
The Body Types
This is unique to the mandolin. So let's look at what the different body types offer you.
Bowl-backed
This is the oldest style that is used in mandolins. It offers you a deep and dark tone, which was necessary back in the day when there wasn't any amplification technology. This style is most often used in folk music and mandolin orchestras.
A-Style
We mentioned the A-Style a few times in this list, but what is it?
The A-Style is a distinct style of mandolin that usually has an "O" type hole in its body, and rarely two "F" type holes. The A-Style is remarkably similar to the F-Style, with the only difference being that it is more designed for beginner mandolins, rather than the more expensive mandolins catered for professionals. These mandolins are often pear-shaped and come with a flat back.
F-Style
The F-Style mandolins were first popularized by Gibson. Their name comes from their common use of double "F" holes, rather than a single "O" hole. The thing that distinguishes it from the A-Style is that it has these small "points" at the bottom, making it more comfortable and easier to play than the A-Style.
The F-Style of mandolins have gained a reputation for being catered to professionals. As many of the more high-end mandolins come in the F-Style.
Closing Remarks
And that's our pick for the best mandolins for your money. We hope that our list helped you make an informed decision.
If you're interested. We also made a list of the best tenor ukuleles that you can buy.