It's undeniable that apps that offer you guitar tabs are an invaluable tool when it comes to learning the guitar. Plus, many of the apps that we will take a look at today not only offer you guitar tabs but the theory behind the music as well, as well as lessons and practice routines to help develop your skills.
With all that being said, let's take a look at some of the most popular applications that offer you just that.
List of the Best Apps for Guitar Tabs
Now, it's important to get something out of the way first. On the market, there are tons of free, as well as premium options that you can choose from. So, today we will be taking a look at some of the best options from both categories. Starting with…
Free Guitar Apps
I remember when I first started learning the guitar these apps were a lifesaver. Good knowledge was hard to come by, and any advice or lessons I could pick up usually weren't elaborate enough. Thankfully, I came upon some of the apps on this list. One app that was a great help was.
Yousician


Yousician was an incredible tool that helped teach me the basics and the fundamentals of the guitar, but not only that, it also gave it to me in a form that was challenging – yet fun.
It's probably the best and fastest way to learn the guitar as a beginner, as it makes learning your favorite songs an interactive game that you can play along to. It first teaches you the chords and notes that your favorite song uses, and then by using a similar sliding-down mechanic like the Guitar Hero games, tracks how you are playing the song. This is great because it makes one of the most tedious parts of being a musician fun – the constant practice that you have to perform. This is the same for techniques as it is for songs that you are learning.
There's one issue that may pop up after a while of using Yousician. That's the fact that the free option is rather limited after a certain point. Plus, another downside is that you can't import your own songs anymore because of copyright issues in the past.
Yousician also offers a premium option for 9.99$ annually or 19.99$ monthly. The premium option is a bit better than the free option, but even with that option, you might find yourself exhausting the application after a while.
Songsterr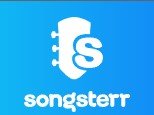 If you're like me and you're too lazy to actually learn to read sheet music, the Songsterr is an absolute godsend. I can't even count how many times Songsterr has come to my aid when I had trouble learning a song by ear.
The beauty of Songsterr is that not only does it give you a full tab of the song you are trying to learn, with the ability to switch between the different instruments. But it also gives you the ability to play the song in real-time to see how it should sound. This feature is really helpful in figuring out how a song should sound at the end after you've learned it and practiced it enough.
Of course, at the start, you might have to take it slow. First learn the notes and riffs of your favorite song, then practice them individually, then combine them and incorporate them into a full song. First, play it at half the speed, then speed it up by 10% until you feel comfortable. And then by another 10% until that feels comfortable, and on and on until you can play it comfortably at the original speed.
The free version of Songsterr is great, it really has all the features you need… But, the premium option it offers adds a few extra that are a nice quality of life improvement. Like the ability to slow down the playback speed of a song, the ability to loop the playback, and the ability to print out the tab if you want to. Among other features. The premium option comes down to 9.90$ per month, a worthy investment if you'd like to support the company.
Ultimate Guitar Tabs & Chords


If it isn't on Songsterr – then it definitely is on Ultimate Guitar." – Is a phrase I constantly say to myself. If you've been playing guitar for a while or are a beginner, then you must have eventually come across the Ultimate Guitar forum. It's probably the greatest human repository for guitar tabs in the world. The beauty behind it is that it is almost entirely community-driven, which means that everyone can upload, comment, and interact with the tabs that are posted on there.
The site has been up for over a decade in which time over 1.6 million tabs have been uploaded. The app is thus quite convenient, with 1.6 million tabs at your disposal in your pocket at any time. Plus the interface is pretty nice and easy to navigate.
One downside compared to Songsterr for example is the fact that the interactive player is locked behind a subscription. 20$ for a full year. Arguably quite inexpensive – but hard to justify when Songsterr offers the same feature for free.
All things considered, Ultimate Guitar is a great tool for any situation. Cause if you can't find a tab for a song on there – the song probably doesn't even exist in the first place.
Premium Guitar Apps
The apps in this category might also come with a free version that you can use, but the premium version is just so much superior to the free version that it's a day and night difference between the two versions. So, without further ado, let's take a look at some of the best premium options for learning guitar tabs.
Guitar Pro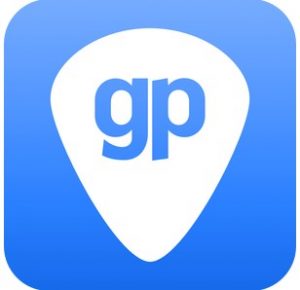 Looking at the surface, many people might be turned away from Guitar Pro when they see that you have to buy it, as there is no free option available (at least legally). But if you take a detailed dive into the application you will see why it comes with a price point.
Guitar Pro offers you the same playback as Songsterr or Ultimate Guitar Pro offers you, it also offers you an expansive catalog of songs that you can choose from that gets updated regularly. But the real reason my professionals prefer Guitar Pro over its free competitors is its extensive tab writing software. There really isn't a better tab writing software on the market which offers so many features and such ease of access with the ability to easily share it with other musicians.
After a while, you begin to see that its price point is quite justified. Coming in at 6.99$ on the App Store, and 4.97$ on Google play. Actually cheaper than the premium options of its competitors.
Chord!

Chord! focuses more on chords and the theory behind them rather than guitar tabs. But, if you have an Apple device, then you're in luck. You can store an unlimited amount of songs with their chords and lyrics which you can later transpose. Thus, you can create your own tabs and learn your favorite songs. But, that's only if you have an Apple product. If you have an Android, yeah, good luck with that.
There probably isn't a better application to teach you all of the chords and the theory behind them, the proper finger placement, and much more. Plus, it does all of this in any scale and tuning of your choosing. It also comes with lessons on how arpeggios are formed and how to play them.
With all those features it's clear why Chord! is a premium option. Coming in at 2.98$ on Google Play, and at 4.99$ on the App Store.
Guitar Tricks


Let's start off by addressing the elephant in the room from the get-go. Yes, this is a free app (for 14 days at least), but the premium option gives you just so much more that it blows the free version away.
For starters, it offers you guitar tabs for all of your favorite songs. What it offers that other apps don't offer is professional lessons by experienced guitarists that teach you every nuance of the song that you are trying to learn. This is why Guitar Tricks is superior in many regards to its competition. Not only does it give you the features that other apps do, but it also comes with what is essentially a guitar lesson.
Guitar lessons can be pretty expensive, depending on the level and experience of the teacher. Guitar Tricks offers a rather inexpensive alternative considering. The monthly subscription comes down to 19.95$ per month. Quite literally a steal.
If you're a beginner, but don't have the resources for guitar lessons – then Guitar Tricks is a solid alternative that you should seriously consider.
Conclusion
Welp, that's it for our list of the best apps for learning guitar tabs. I hope you found it educational. Just remember to be on the lookout for the right features that you need.
Many guitar apps offer just the guitar tab, and that's perfectly fine. But the quality of life improvements that other features add is just so good. The ability to play back the song is a major one, the ability to loop and change the tempo are other great features. The ability to create and write your own guitar tabs with ease is a great feature if you are a professional. Lessons on the nuances of the theory, technique, and principles behind the chords, notes, arpeggios, etc… Are all incredibly useful features.
Out of ideas on which song to learn next? Don't worry, we've got you. We've written in the past about 80 easy blues guitar songs that you can start learning today. Check it out, it might just inspire you.